Ad blocker interference detected!
Wikia is a free-to-use site that makes money from advertising. We have a modified experience for viewers using ad blockers

Wikia is not accessible if you've made further modifications. Remove the custom ad blocker rule(s) and the page will load as expected.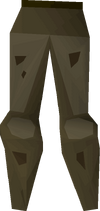 Frog-leather chaps are a piece of frog-leather armour that can be bought from Reldak's Leather Armour in the market place of Dorgesh-Kaan. It can also be looted from the Dorgesh-Kaan average chests, which require 52 Thieving to unlock. Frog-leather armour cannot be created through the Crafting skill.
Wearing the chaps requires level 25 in Defence and Ranged. Despite having higher requirements to equip, studded chaps have superior stats compared to frog-leather chaps.
Bonuses
Hover over image for type
 Attack bonus
+0
+0
+0
-5
+2
 Defence bonus
+7
+7
+9
+4
+9
Other bonuses
Slot

list

+0
0
0%
+0
Headgear

 Void (+0) •  Cowl (+1) •  Coif (+2) •Slayer helmet (i) (+3) •  Snakeskin (+4) •  Spined (+6) •  Archer helm (+6) •  Ranger hat (+6) •  Blessed (+7) •  Karil's (+7) •  Robin hood hat (+8) •  Third-age (+9) •  Armadyl (+10)

Bodies

 Void (+0) •  Leather (+2) •  Hardleather (+8) •  Studded(t)(g) (+8) •  Frog-leather (+10) •  Snakeskin (+12) •  Rangers' (+15) •  Spined (+15) •  Green d'hide(t)(g) (+15) •  Blue d'hide(t)(g) (+20) •  Red d'hide(t)(g) (+25) •  Black d'hide(t)(g) (+30) •  Blessed (+30) •  Third-age (+30) •  Karil's (+30) •  Armadyl (+33)

Legwear

 Void (+0) •  Frog-leather (+2) •  Leather (+4) •  Snakeskin (+6) •  Studded(t)(g) (+6) •
 Green d'hide(t)(g) (+8) •  Spined (+8) •  Yak-hide (+10) •  Blue d'hide(t)(g) (+11) •
 Red d'hide(t)(g) (+14) •  Penance skirt (+15) •  Black d'hide(t)(g) (+17) •  Blessed (+17) •
 Third-age (+17) •  Karil's (+17) •  Armadyl (+20)

Vambraces

 Void (+0) •  Leather (+4) (spiked) •  Snakeskin (+6) •  Combat bracelet (+7)•  Green d'hide (+8) (spiked) •  Blue d'hide (+9) (spiked) •  Red d'hide (+10) (spiked) •  Black d'hide (+11) (spiked) •  Blessed (+11) •  Third-age (+11) •  Barrows (+12)

Amulets

 Accuracy (+4) •  Power (+6) •  Glory (+10) •  Fury (+10) •  Anguish (+15)

Boots

 Frog-leather (+2) •  Snakeskin (+3) •  Blessed (+7) •  Ranger (+8) •  Pegasian (+12)