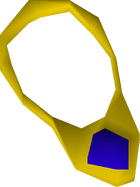 A Games necklace is an enchanted sapphire necklace worn on neck slot. This item has 8 charges which can teleport the player to the various locations in Gielinor. After all 8 charges are used, the necklace will disintegrate into dust.
A games necklace may be created by casting Lvl-1 Enchant on a sapphire necklace. This requires a water rune and a cosmic rune, and grants 17.5 Magic experience.
Teleport Locations
Edit
Bonuses
Hover over image for type
 Attack bonus
+0
+0
+0
+0
+0
 Defence bonus
+0
+0
+0
+0
+0
Other bonuses
Slot

list

+0
0
0%
+0
Only the fully charged games necklace can be traded on the Grand Exchange.
The in-game price checker can still calculate the price of partially charged necklace as a fraction of the GE price of a fully charged necklace.
Standard necklaces

 Gold •  Opal •  Sapphire •  Jade •  Emerald •  Topaz •  Ruby •  Diamond  Dragonstone •  Onyx •  Zenyte

Enchanted necklaces

 Dodgy •  Games •  Passage •  Binding •  Faith •  Digsite •  Phoenix •  Skills •  Berserker •  Anguish

Other necklaces
Ad blocker interference detected!
Wikia is a free-to-use site that makes money from advertising. We have a modified experience for viewers using ad blockers

Wikia is not accessible if you've made further modifications. Remove the custom ad blocker rule(s) and the page will load as expected.