Ad blocker interference detected!
Wikia is a free-to-use site that makes money from advertising. We have a modified experience for viewers using ad blockers

Wikia is not accessible if you've made further modifications. Remove the custom ad blocker rule(s) and the page will load as expected.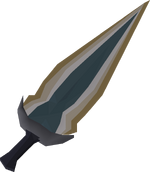 The glowing dagger is a quest item obtained and used during the Legends' Quest.
It is created when you are given the dark dagger by Echned Zekin, requesting that you take the hat, which is actually Viyeldi, then use the dagger on it; it will kill him and will convert the dark dagger into a glowing dagger. It must then be taken back to Echned Zekin, who will reveal his true form - the demon Nezikchened.
If you have dropped your glowing dagger or complete the quest, it can not be reobtained. It has been thought that by returning to the Kharazi Dungeon and going to the room with the winch, which requires casting a Charge Orb spell on the door to enter, and smashing the barrels in the room, that you could to reobtain it, but that has been proven to be false by Mod Ash.
The Glowing Dagger has the same combat stats as an Iron Dagger, only lacking the +4 strength bonus.
Bonuses
Hover over image for type
 Attack bonus
+5
+3
-4
+1
+0
 Defence bonus
+0
+0
+0
+1
+0
Other bonuses
Slot

list

+0
0
0%
+0
Combat styles
Edit
Standard

 Bronze •  Iron •  Steel •  Black •  White •  Mithril •  Adamant
 Rune •  Dragon •  Abyssal

Other