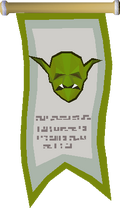 The Goblin Champion dwells in the dungeon under the Champions' Guild. It is a stronger form than that of a normal Goblin. The Goblin Champion can only be found after you find a Goblin champion scroll which is dropped by most types of Goblins.
The Goblin Champion will use a weak magic attack, and also a special spell that drains prayer points. You can only use Magic against the Goblin (dragonfire shield activation does work). Melee and Ranged are prohibited in the fight. Upon defeating him, you get 128 Slayer experience and 128 Hitpoints experience.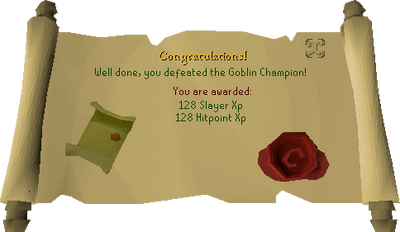 128 experience
128 experience
A banner hung under the Champions' Guild to proclaim victory over the Goblin Champion.
Lower Champions

Imp • Goblin • Skeleton • Zombie • Giant • Hobgoblin • Ghoul • Earth Warrior • Jogre • Lesser Demon

Champions of Champions

Scrolls

 Imp •  Goblin •  Skeleton •  Zombie •  Giant •  Hobgoblin •  Ghoul •  Earth warrior •  Jogre •  Lesser demon