Ad blocker interference detected!
Wikia is a free-to-use site that makes money from advertising. We have a modified experience for viewers using ad blockers

Wikia is not accessible if you've made further modifications. Remove the custom ad blocker rule(s) and the page will load as expected.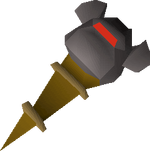 A Gorilla greegree allows a player to turn into a gorilla while on Ape Atoll. While in this form, a player, using a rope, can pick red bananas needed in Recipe for Disaster. To make a gorilla greegree, a player must take monkey bones from a Monkey Guard and a Monkey Talisman to Zooknock.
There are two different types of Gorilla greegree. It depends on which type of gorilla's bones used. If players used the bones from the level 167 bearded gorilla they will receive the bearded gorilla gregree. If players used a regular gorilla gree they will get the unbearded version.
Overall there are 8 greegrees, including the large and small ninja greegrees, large and small zombie greegrees, bearded, blue faced and normal gorilla greegrees and the Karamjan greegrees.
Bonuses
Hover over image for type

A player disguised as a Monkey Guard.
 Attack bonus
+0
+0
+0
+0
+0
 Defence bonus
+0
+0
+0
+0
+0
Other bonuses
Slot

list

+0
0
0%
+0
Greegrees

 Karamjan •  Small zombie •  Big zombie •  Small ninja •  Medium ninja •  Gorilla •  Bearded gorilla •  Ancient gorilla

Bones

 Karamjan •  Small zombie •  Big zombie •  Small ninja •  Medium ninja •  Gorilla •  Bearded gorilla •  Monkey skull

Other