Ad blocker interference detected!
Wikia is a free-to-use site that makes money from advertising. We have a modified experience for viewers using ad blockers

Wikia is not accessible if you've made further modifications. Remove the custom ad blocker rule(s) and the page will load as expected.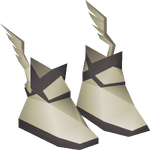 The Graceful boots are part of the Graceful clothing set. They cost 40 Marks of Grace from Grace in the Rogues' Den.
Although the boots of lightness are easily obtained and reduce weight by 4.5 kg ( compared to 4 kg of the Graceful boots), the Graceful boots are needed for the full outfit's effect, which increases the run energy restore rate by 30%. With this in mind, it is most practical to buy the boots last if buying pieces of the Graceful clothing set one-by-one.
Players who have 100% favour in a House of Great Kourend can use their graceful boots on Osten to recolour them to a House's colours for 15 Marks of Grace. Grace will buy it back for 32 Marks of Grace.
Bonuses
Hover over image for type

A player wearing the full graceful outfit.
 Attack bonus
+0
+0
+0
+0
+0
 Defence bonus
+0
+0
+0
+0
+0
Other bonuses
Slot

list

+0
0
0%
+0
The wings attached to the heels of these boots resemble those on the Helm of Neitiznot.
The wings on the boots are likely a reference to the ancient roman god Mercury, the messenger of the gods.
Melee

 Rock-shell •  Bronze(Fighting•Fancy) •  Iron •  Steel •  Black •  White •  Mithril •  Adamant •  Samurai •  Rune (Gilded) •  Dragon •  Bandos •  Primordial

Ranged

 Spined •  Leather •  Frog-leather •  Snakeskin •  Blessed •  Ranger •  Pegasian

Magic

 Skeletal •  Ghostly •  Moonclan •  Splitbark •  Wizard •  Mystic •  Darkness •  Infinity •  Lunar •  Eternal

Other

 Mime •  Chicken •  Evil chicken •  Gnome •  Canifis •  H.A.M. •  Climbing •  Spiked •  Insulated •  Shoes •  Slave •  Runner •  Rogue •  Mourner •  Lumberjack •  Gardening •  Lightness •  Builder's •  Desert •  Graceful •  Prospector •  Holy •  Angler •  Farmer's •  Pyromancer