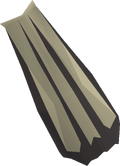 The Graceful cape is part of the Graceful clothing set. It costs 40 Marks of grace from Grace in the Rogues' Den.
The Graceful cape is needed for the graceful set effect, which increases the run energy restore rate by 30%. Alternatively, an agility cape can be used in its place, acting as a substitute for the set effect.
Players who have 100% favour in a House of Great Kourend can use their graceful cape on Osten to recolour it to a House's colours for 15 Marks of Grace. Grace will buy it back for 32 Marks of Grace.
Bonuses
Hover over image for type

A player wearing the graceful cape.
 Attack bonus
+0
+0
+0
+0
+0
 Defence bonus
+0
+0
+0
+0
+0
Other bonuses
Slot

list

+0
0
0%
+0