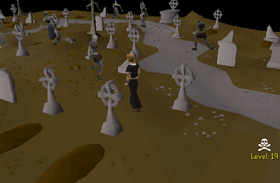 The Graveyard of Shadows, not to be confused with the Forgotten Cemetery, is located at levels 16-21 in the Wilderness. This location is a large and seemingly forgotten graveyard full of dead trees, zombies, and rotting gravestones. Players may teleport here with the Carrallangar Teleport.
Respawn points
Edit
The Graveyard is also a popular respawn point. There are many plank and tile respawns not to mention respawns for crossbows, steel daggers and iron med helms.
Nearby locations
Edit
As mentioned above, the Graveyard of Shadows contains numerous zombies and several barriers that can be used for safespotting Magic or Ranged. This location is not recommended, however, due to the danger posed by wandering player killers and other enemies.
The song Dead Can Dance is unlocked—the title is an obvious play on the band of the same name.