Ad blocker interference detected!
Wikia is a free-to-use site that makes money from advertising. We have a modified experience for viewers using ad blockers

Wikia is not accessible if you've made further modifications. Remove the custom ad blocker rule(s) and the page will load as expected.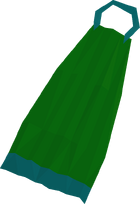 The Guthix cape is a reward from the Mage Arena minigame and requires level 60 magic to be worn. To receive the cape, the player must win the activity by defeating Kolodion in his four guises, then speak to him, step through the nearby sparkling pool, and finally pray at the statue of Guthix. Upon praying at the statue, the Guthix god cape will appear next to the player and can be picked up.
The Guthix cape and the Guthix staff are required to cast the spell Charge, which enables the player to hit up to 50% greater damage with the Claws of Guthix god spell.
The Guthix cape is instantly destroyed, without warning, when dropped, as Guthix reclaims the cape when it touches the ground. Once lost, a player can get a new cape by once again praying at the statue of Guthix. Kolodion does not have to be fought again. Alternatively, players can purchase one from Perdu for 23,000 coins (although this requires the player obtain the cape at least once from the Mage Arena).
Bonuses
Hover over image for type

A player wearing a Guthix cape
 Attack bonus
+0
+0
+0
+10
+0
 Defence bonus
+1
+1
+2
+10
+0
Other bonuses
Slot

list

+0
0
0%
+0
God spells

 Charge •  Claws of Guthix •  Flames of Zamorak •  Saradomin Strike

God staves
God capes

 Guthix cape •  Saradomin cape •  Zamorak cape
Regular capes

 Red •  Black •  Blue •  Yellow •  Green •  Purple •  Orange •  Pink

Combat capes

 Legends •  Fire •  Moonclan •  Lunar •  Obsidian (r) •  Saradomin •  Zamorak •  Guthix •  Team

Capes of Accomplishment

 Agility •  Attack •  Hitpoints •  Construction •  Cooking •  Crafting
 Defence •  Farming •  Firemaking •  Fishing •  Fletching •  Herblore
 Hunter •  Magic •  Mining •  Prayer •  Ranging •  Runecrafting •  Slayer
 Smithing •  Strength •  Thieving •  Woodcutting •  Quest point •  Achievement diary •  Music •  Max

Cloaks

 Clue hunter •  Ghostly •  H.A.M. •  Mourner •  Saradomin •  Zamorak •  Guthix  Bandos •  Armadyl •  Ancient •  Saradomin team •  Zamorak team

Fremennik cloaks

 Cyan •  Brown •  Blue •  Green •  Red •  Grey •  Yellow •  Teal •  Purple •  Pink •  Black

Others

 Ava's attractor •  Ava's accumulator •  Bonesack •  Cabbage •  Diving apparatus •  Eagle •  Spotted •  Spottier