Hay bales are a form of interactive scenery found throughout farms in RuneScape, and are sometimes able to be searched.
You also have to use a Sack with a Hay bale or a haystack to get a Hay Sack which you need to craft a Scarecrow.
Haystacks and hay bales can be found in following locations:
- North-east of Draynor Village, north of the potato field
- Just east of the general store in Edgeville
- North of West Ardougne, west of the sheep field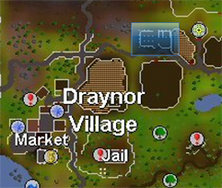 - Just west of the
windmill
north of
West Ardougne
Ad blocker interference detected!
Wikia is a free-to-use site that makes money from advertising. We have a modified experience for viewers using ad blockers

Wikia is not accessible if you've made further modifications. Remove the custom ad blocker rule(s) and the page will load as expected.