Ad blocker interference detected!
Wikia is a free-to-use site that makes money from advertising. We have a modified experience for viewers using ad blockers

Wikia is not accessible if you've made further modifications. Remove the custom ad blocker rule(s) and the page will load as expected.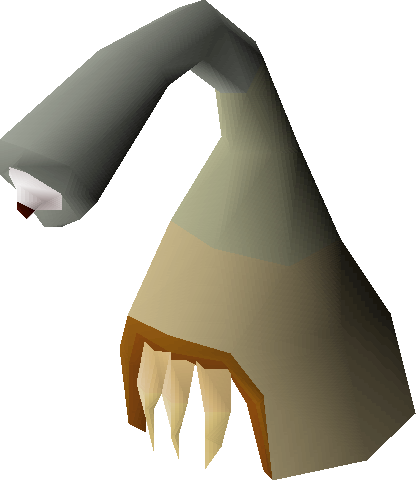 The Healer hat is a possible reward item from Barbarian Assault and requires 45 defence to wear. Players who have killed the Penance Queen and have 275 Honour points in each of the four roles can purchase the hat from Commander Connad, located on the main floor of the Barbarian Outpost . The hat is part of the penance set, all parts of which are available from Barbarian assault.
The stats of the Healer hat are very similar to the farseer helm.  Both require 45 defence and offer +6 magic attack bonus with attack penalties of -5 to all other styles. However the healer hat has a slightly higher (+1) magic defence bonus at the cost of lower melee defence (-2 to stab, slash, and crush).
If the player dies below level 20 Wilderness and the hat is not protected, it will be dropped on the ground. This means the player can return to where they had died and re-obtain it. However, the item will be unusable and must be repaired with 45,000 coins by using the item on Perdu.
Bonuses
Hover over image for type
 Attack bonus
-5
-5
-5
+6
-5
 Defence bonus
+6
+8
+10
+7
+0
Other bonuses
Slot

list

+0
0
0%
+0
Game Details

Basics • Gameplay • Strategies • Rewards

NPCs

Captain Cain • Commander Connad • Private Paldo • Private Paldon • Private Pendron • Private Pierreb • Sergeant Sambur • Major Attack • Major Collect • Major Defend • Major Heal

Equipment

| | |
| --- | --- |
| Hats |  Runner hat •  Fighter hat •  Ranger hat •  Healer hat |
| Armour |  Fighter torso •  Penance skirt •  Penance gloves •  Runner boots |

Penance

Gameplay items
Hats

 Void (+0) •  Elemental (+0) •  Mind (+0) •  Wizard(t)(g) (+2) •  Wizard(t)(g) (+2) •  Skeletal (+2) •  Xerician (+3) •  Gnome (+3) •  Canifis (+3) •  Fremennik (+3) •  Splitbark (+3) •  Ghostly (+3) •  Lunar (+3) •  Slayer helmet (i) (+3) •  Mystic (+4) •  Enchanted (+4) •  Darkness (+4) •  Mitre (+4) •  Elder (+5) •  Infinity (+6) •  Ahrim's (+6) •  Farseer (+6) •  Healer (+6)•  Third age (+8)

Robe tops

 Void (+0) •  Zamorak (+2) •  Wizard (t)(g) (+3) •  Black(t)(g) (+3) •  Vestment (+4) •  Ghostly (+5) •  Skeletal (+8) •  Elder (+10) •  Splitbark (+10) •  Lunar (+10) •  Xerician (+12) •  Mystic (+20) •  Enchanted (+20) •  Darkness (+20) •  Infinity (+22) •  Third age (+24) •  Ahrim's (+30)

Robe legs

 Void (+0) •  Blue(t)(g)(+0) •  Black (t)(g) (+0) •  Zamorak (+2) •  Ghostly (+4) •  Vestment (+4) •  Skeletal (+6) •  Elder (+6) •  Splitbark (+7) •  Lunar (+7) •  Xerician (+8) •  Mystic (+15) •  Enchanted (+15)•  Darkness (+15) •  Infinity (+17) •  Third age (+19) •  Ahrim's (+22)

Gloves

 Void (+0) •  Skeletal (+0) •  Hardleather (+1) •  Bronze (+1) •  Splitbark (+2) •  Ghostly (+2) •  Iron (+2) •  Steel (+2) •  Mystic (+3) •  Darkness (+3) •  Combat bracelet (+3) •  Regen bracelet (+3) •  Black (+3) •  Mithril (+3) •  Lunar (+4) •  Adamant (+4) •  Rune (+4) •  Infinity (+5) •  Dragon (+5) •  Barrows (+6) •  Tormented bracelet (+10)

Boots

 Skeletal (+0) •  Splitbark (+2) •  Ghostly (+2) •  Lunar (+2) •  Mystic (+3) •  Darkness (+3) •  Wizard (+4) •  Infinity (+5) •  Eternal (+8)

Capes

 Vestment cloak (+1) •  Fire cape (+1) •  Ardougne cloak 1 (+2) •  Ardougne cloak 2 (+4) •  Ardougne cloak 3 (+5) •  Ardougne cloak 4 (+6) •  God capes (+10)

Amulets

 Stole (+2) •  Accuracy (+4) •  Power (+6) •  Magic (t) (+10) •  Glory (t) (+10) •  Fury (or) (+10) •  Occult(or) (+12) •  Third age (+15)

Shields

 Broodoo shield (+3) •  Book of balance (+4) •  Unholy book (+8) •  Book of darkness (+10) •  Malediction ward (+12) •  Mage's book (+15) •  Arcane spirit shield (+20)