Ad blocker interference detected!
Wikia is a free-to-use site that makes money from advertising. We have a modified experience for viewers using ad blockers

Wikia is not accessible if you've made further modifications. Remove the custom ad blocker rule(s) and the page will load as expected.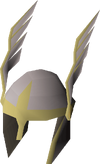 The helm of neitiznot is a reward given to players upon completion of the The Fremennik Isles quest, and requires 55 Defence to equip. Its stats are roughly akin to that of a Berserker helm, with an additional +3 prayer bonus, another +1 crush defence, and +3 magic defence bonus, and no negative offensive or defensive bonuses. The helmet's substantial defensive stats, strength, and prayer bonuses along with it being non-degradable make it one of the most frequently used helmets.
Whilst it is tradeable, players may only equip the helm if they have completed The Fremennik Isles quest. If lost, players can obtain another helm from Mawnis Burowgar in Neitiznot for a fee of 50,000 coins.
The helm is given to you for free the first time after killing the Ice Troll King and handing the head over to Mawnis Burowgar, after which you will see him without the helmet on as you have been named champion and the rightful owner of the helmet.
Bonuses
Hover over image for type

A player wearing a helm of Neitiznot.
 Attack bonus
+0
+0
+0
+0
+0
 Defence bonus
+31
+29
+34
+3
+30
Other bonuses
Slot

list

+3
0
0%
+3
Yak-hide armour
Rock-shell armour
Spined armour
Skeletal armour

Fremennik robes

Rings

 Warrior ring (imbued) •  Berserker ring (imbued) •  Seers ring (imbued) •  Archers ring (imbued)

Helms

 Fremennik •  Archer •  Berserker •  Farseer •  Warrior •  Helm of neitiznot

Fremennik cloaks

 Cyan •  Brown •  Blue •  Green •  Red •  Grey •  Yellow •  Teal •  Purple •  Pink •  Black

Fremennik shirts

Others