"Club" redirects here. For the cave goblin weapon, see
Bone club
.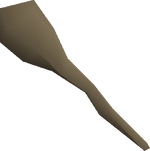 The hill giant club is a two-handed melee weapon requiring 40 Attack to equip. It is currently the best-in-slot weapon for crush attack in free-to-play.
It can be obtained as a drop by killing Obor the Hill Titan. The only way to gain access to Obor's Lair is to kill Hill Giants until they drop a giant key.
Bonuses
Hover over image for type
 Attack bonus
-4
+50
+65
-4
+0
 Defence bonus
+0
+0
+0
+0
-1
Other bonuses
Slot

list

+70
0
0%
+0
Combat styles
Edit
Ad blocker interference detected!
Wikia is a free-to-use site that makes money from advertising. We have a modified experience for viewers using ad blockers

Wikia is not accessible if you've made further modifications. Remove the custom ad blocker rule(s) and the page will load as expected.