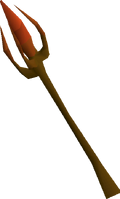 Iban's staff is used primarily to cast Iban Blast. The staff is obtained by defeating the evil mage Iban in the Underground Pass quest.
Iban's staff requires 50 Magic and 50 Attack to wield. Iban's staff has 120 charges, which are required to cast the spell Iban Blast, in addition to 1 death rune and 5 fire runes per cast, before it must be recharged. Notice that the player is still able to cast other spells like Fire Blast regardless of its charge state. For a cast on a monster, a single charge is used; however, against a player, two charges are used. To recharge the staff, the player must go to the Underground Pass (dungeon) to a well called "The Flames of Zamorak". This well is the first one past the three level 62 Paladins in the Underground Pass. If using the standard Ardougne entrance you'll need ropes, a plank, a bow/arrows, a tinderbox, and a spade in order to reach the well. Using the staff with the well will recharge it fully (note that the Paladins do not have to be killed in order to recharge the staff.). Once the player has completed the Underground Pass and Regicide quests, using the Elf entrance to reach the well is much quicker and easier than using the Ardougne entrance. The maximum hit with the Iban Blast spell is a 25, making it excellent for low-level player killing. This staff cannot auto cast ancients, crumble undead, magic dart or god arena spells.
Players can pay an additional 200,000 coins to the Dark Mage to create Iban's upgraded staff, which will hold 2,500 charges instead of 120. Using this upgraded staff in PvP will cause it to lose two charges per cast, effectively giving it 1,250 charges if used entirely for PvP.
If the staff is lost, the player must kill Iban disciples until a broken Iban's staff is dropped. This can be repaired by the Dark Mage at the front of Underground Pass near the western house of West Ardougne for 200,000 coins, or 400,000 coins for 2,500 charges by selecting "Can you make it hold more than 120 charges?" and "Here's 400,000 coins. Please upgrade the staff" options.
Players can receive multiple staves using the drop trick before killing an Iban disciple to obtain a broken Iban's staff which can be repaired to give a duplicate. However, all duplicate staves share the same charges whether in the players inventory or bank still making you recharge every 2500 casts.
As a melee weapon, the Iban staff has the same stats as a mystic staff.
Bonuses
Hover over image for type

A player wielding Iban's staff.
 Attack bonus
+10
-1
+40
+10
+0
 Defence bonus
+2
+3
+1
+10
+0
Other bonuses
Slot

list

+50
0
0%
+0
Staves

 Staff •  Magic staff •  White •  Air •  Water •  Earth •  Fire •  Ancient staff •  Iban's (upgraded) •  Toktz-mej-tal •  Ahrim's staff •  Staff of the dead •  Toxic staff of the dead

Battlestaves

 Battlestaff •  Air •  Water •  Earth •  Fire •  Lava •  Mud •  Steam (or) •  Smoke •  Mist •  Dust

Mystic staves

 Air •  Water •  Earth •  Fire •  Lava •  Mud •  Steam (or) •  Smoke •  Mist •  Dust

God staves
Croziers

Other staves

 Broken •  Staff of armadyl •  Skull sceptre •  Dramen •  Lunar •  Rod of ivandis •  Slayer's •  Trident of the seas •  Trident of the swamp •  Pharaoh's sceptre •  Void knight mace