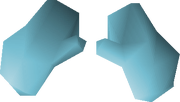 Ice gloves are dropped by killing the Ice Queen living inside White Wolf Mountain. Make sure to bring a pickaxe when going to obtain a pair, as one is needed to reach the queen. You need a Mining level of 50 to mine through the rocks.
They are used in Heroes Quest to pick up the Entrana firebird's fire feather, and have uses in other quests, such as the Clock Tower, Desert Treasure, Watchtower, and Recipe for Disaster quests. It can also be used to collect hot bars from the Blast Furnace without having to use a bucket of water.
The Ice gloves can be re-obtained as many times as the player wishes. In case of mishaps (death, accidental Alching, and so on), it is suggested that the player obtain more than one pair of Ice gloves. You do not need to start the quest to get Ice Gloves, which is commonly done by pures. Although the Ice Queen is a high level, she is still easy to kill especially when you are using Protect from Melee.
Bonuses
Hover over image for type

A player wearing ice gloves.
 Attack bonus
+0
+0
+0
+0
+0
 Defence bonus
+0
+3
+4
+0
+2
Other bonuses
Slot

list

+0
0
0%
+0
Ad blocker interference detected!
Wikia is a free-to-use site that makes money from advertising. We have a modified experience for viewers using ad blockers

Wikia is not accessible if you've made further modifications. Remove the custom ad blocker rule(s) and the page will load as expected.