Ad blocker interference detected!
Wikia is a free-to-use site that makes money from advertising. We have a modified experience for viewers using ad blockers

Wikia is not accessible if you've made further modifications. Remove the custom ad blocker rule(s) and the page will load as expected.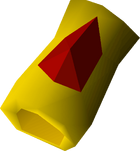 An Inoculation bracelet can be made by enchanting a ruby bracelet, using the spell Lvl-3 Enchant. It requires Zogre Flesh Eaters to be completed first before it can be worn.
When wielded, it protects the wearer a total of 275 disease damage. Players still get diseased, but it reduces the damage normally taken from the disease to 0. It breaks when its protection has been used up. It may also be operated to find out how much more protection it will provide.
Bonuses
Hover over image for type
 Attack bonus
+0
+0
+0
+0
+0
 Defence bonus
+0
+0
+0
+0
+0
Other bonuses
Slot

list

+0
0
0%
+0
Standard

 Gold •  Sapphire •  Emerald •  Ruby •  Diamond •  Dragonstone •  Onyx •  Zenyte

Enchanted

 Clay •  Castle wars •  Inoculation •  Abyssal •  Combat •  Regeneration •  Tormented