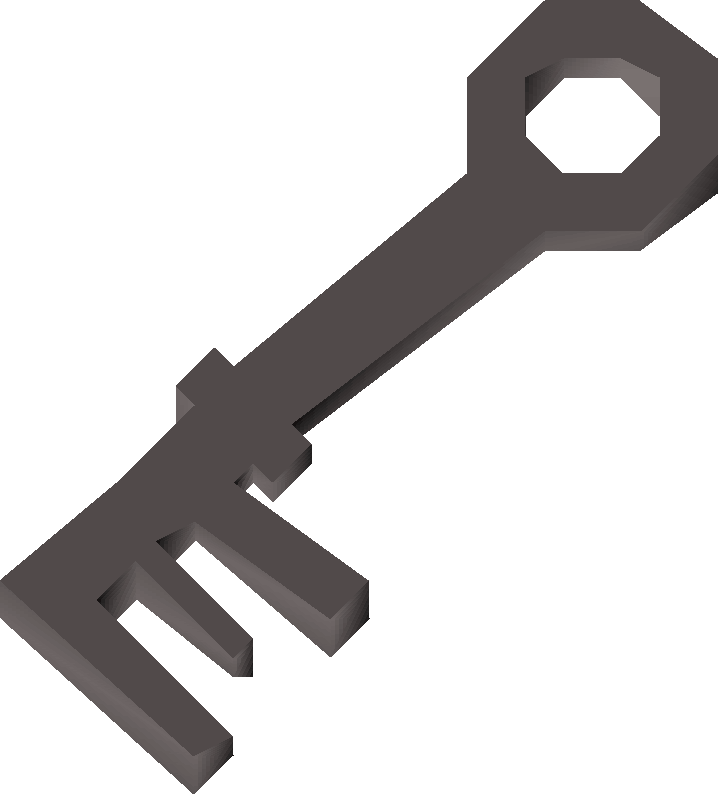 The Iron key is used in the Priest in Peril quest. It is obtained by swapping a golden key for it in the monuments in the dungeon. If the key is lost it can be reobtained by killing a level 30 Monk of Zamorak and using the golden key on the monument even though there is already a golden key inside. The iron key cannot be stored in the steel key ring.
Keys (excluding single-use quest keys)

Steel key ring keys

 Ancestral key •  Battered key •  Brass key •  Crystal-mine key •  Dusty key •  Enchanted key •  Maze key •  Metal key •  Shiny key •  Shortcut key •  Weapon store key •  Wrought iron key •  New key

H.A.M.

 Bronze key (H.A.M.) •  Iron key (H.A.M.) •  Steel key (H.A.M.) •  Silver key (H.A.M.)

Shade keys

| | |
| --- | --- |
| Bronze | |
| Steel | |
| Black | |
| Silver | |

Others

 Crystal key •  Tooth half of key •  Loop half of key •  Key (Treasure Trails) •  Muddy key •  Prison key (Prison Pete) •  Sinister key •  Tarnished key •  Iron key •  Ecumenical key •  Bank key
Ad blocker interference detected!
Wikia is a free-to-use site that makes money from advertising. We have a modified experience for viewers using ad blockers

Wikia is not accessible if you've made further modifications. Remove the custom ad blocker rule(s) and the page will load as expected.