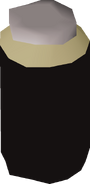 The Jar of darkness is a rare drop from Skotizo. Players can right click the View option on the jar to have the game screen go black for a brief moment, with the chatbox stating You view the darkness.
The jar can be used on a boss lair display in a player's Achievement Gallery to have a display of Skotizo. Doing so requires killing it at least once.
Dropping monsters
Edit
| Monster | Combat level | Quantity | Rarity |
| --- | --- | --- | --- |
| Skotizo | 321 | 1 | |
Boss drops

 Jar of dirt •  Jar of sand •  Jar of swamp •  Jar of souls •  Jar of miasma •  Jar of darkness

Impling jars

 Baby •  Young •  Gourmet •  Earth •  Essence •  Eclectic •  Nature •  Magpie •  Ninja •  Dragon •  Lucky

Other

 Impling jar •  Butterfly jar •  Specimen jar •  Canopic jar •  Bell jar •  Jar of ethereal fluid
Ad blocker interference detected!
Wikia is a free-to-use site that makes money from advertising. We have a modified experience for viewers using ad blockers

Wikia is not accessible if you've made further modifications. Remove the custom ad blocker rule(s) and the page will load as expected.