Ad blocker interference detected!
Wikia is a free-to-use site that makes money from advertising. We have a modified experience for viewers using ad blockers

Wikia is not accessible if you've made further modifications. Remove the custom ad blocker rule(s) and the page will load as expected.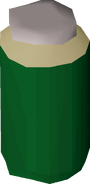 The jar of swamp is a rare drop from Zulrah. Players who attempt to open it, will have the chatbox display the message I'm not opening that, it smells funny!
The jar can be used on a boss lair display in a player's Achievement Gallery to have a display of Zulrah. Doing so requires killing him at least once.
Dropping monsters
Edit
| Monster | Combat level | Quantity | Rarity |
| --- | --- | --- | --- |
| Zulrah | 725 | 1 | |
Monsters

Signature drops

 Zulrah's scales •  Tanzanite fang •  Magic fang •  Serpentine visage •  Magma mutagen •  Tanzanite mutagen •  Jar of swamp •  Pet snakeling •  Zul-andra teleport

Equipment

 Toxic blowpipe •  Toxic staff of the dead •  Trident of the swamp •  Serpentine helm •  Magma helm •  Tanzanite helm

Other

High Priestess Zul-Harcinqa • Priestess Zul-Gwenwynig •  Anti-venom •  Anti-venom+
Boss drops

 Jar of dirt •  Jar of sand •  Jar of swamp •  Jar of souls •  Jar of miasma •  Jar of darkness

Impling jars

 Baby •  Young •  Gourmet •  Earth •  Essence •  Eclectic •  Nature •  Magpie •  Ninja •  Dragon •  Lucky

Other

 Impling jar •  Butterfly jar •  Specimen jar •  Canopic jar •  Bell jar •  Jar of ethereal fluid