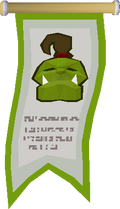 The Jogre Champion is a boss in the Champion's Challenge minigame. He attacks with melee and is the only Champion capable of poisoning. In his fight range attacks are not allowed, but it is still possible to mage him from a distance. An antipoison is very helpful as the poison starts at 8 damage.
480 experience
480 experience
A banner hung under the Champions' Guild to proclaim victory over the Jogre Champion.
Lower Champions

Imp • Goblin • Skeleton • Zombie • Giant • Hobgoblin • Ghoul • Earth Warrior • Jogre • Lesser Demon

Champions of Champions

Scrolls

 Imp •  Goblin •  Skeleton •  Zombie •  Giant •  Hobgoblin •  Ghoul •  Earth warrior •  Jogre •  Lesser demon
Ad blocker interference detected!
Wikia is a free-to-use site that makes money from advertising. We have a modified experience for viewers using ad blockers

Wikia is not accessible if you've made further modifications. Remove the custom ad blocker rule(s) and the page will load as expected.