Ad blocker interference detected!
Wikia is a free-to-use site that makes money from advertising. We have a modified experience for viewers using ad blockers

Wikia is not accessible if you've made further modifications. Remove the custom ad blocker rule(s) and the page will load as expected.
Kamil is the guardian of the ice diamond in the Desert Treasure quest. He uses ice magic spells that will freeze the player. He is weak against fire spells; this, coupled with the weakness of his spells, mean that using Fire Magic is advisable against him. Wearing black dragonhide will protect from his attacks effectively; however, this can detract from the effectiveness of spells.
Kamil makes a reappearance in the Recipe for Disaster final battle as Karamel.
He can be fought in the Nightmare Zone after the quest is complete.
Getting to Kamil
Edit
Kamil is reached east of the Ice Path, north of Trollheim.
To get there, teleport to Trollheim, which requires 61 Magic and completion of Eadgar's Ruse quest, and walk to the Fire Gate. Squeeze between the gate, kill five ice trolls to get the gate to open. Head up the Ice Path, past the ice wolves (level 132) and you'll come up against Kamil. For a more detailed guide, see the Desert Treasure guide.
Kamil is powerful with Melee and Magic. It's a good idea to wear Ahrim's robes, Lunar robes, Splitbark armour, or Mystic robes with Black d'hide chaps to fight Kamil.
Fire spells are clearly the best way to go, but there is a common misconception here. Many people believe spells like Fire Wave are the best. However, the Freeze Effect (the effect that the icy area lowers all stats) reduces your Magic level. The higher level Fire spell you're using, the more stat restore potions you will need. Fire Bolt with Family Crest Gauntlets is a very good idea, and Fire Blast also works if you have a very high Magic level.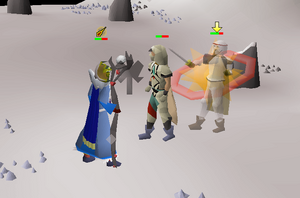 Once you come up against Kamil, turn on Protect from Magic or Protect from Melee and begin maging Kamil up close. If Kamil is next to you, he will use both melee and mage attacks, even if you are protecting against melee. If at a distance, he will use mage only, but will teleport next to you if you are protecting against mage attacks. It is highly recommended to use Protect from Melee instead of Protect from Magic due to the fact that Kamil is stronger with Melee. He will constantly teleport next to you, freeze you, and then melee you, so trying to run around is wasting time, as you won't get away. This fight isn't particularly hard if you do it right. As Super restore potions also give Prayer points back, this means that apart from the fact you hit slightly lower, you will drink just as many potions as if this was outside the icy area, which gets rid of his advantage. A one click teleport is highly recommended.
Note: Iban's Blast, Flames of Zamorak and Trident of the Seas are completely ineffective against Kamil as it will only hit 0's.
Bosses

Agrith-Naar • Agrith-Na-Na • Arrg • Barrelchest • Black demon • Black Knight Titan • Bouncer • Chronozon • Count Draynor • Culinaromancer • Dad • Dagannoth mother • Damis • Dessourt • Dessous • Elvarg • The Everlasting • Evil Chicken • Fareed • Flambeed • Gelatinnoth Mother • Giant Roc • Giant scarab • Glod • Ice Troll King • The Inadequacy • Jungle Demon • Kamil • Karamel • The Kendal • Khazard warlord • King Roald • Me • Moss giant • Nazastarool • Nezikchened • Skeleton Hellhound • Slagilith • Tanglefoot • Tree spirit • Treus Dayth • The Untouchable • Witch's experiment

Rewards

Resources

 Snape grass •  Red spider's eggs •  Flax •  Bucket of sand •  Potato cactus •  Seaweed •  Dragon scale dust •  Compost potion •
 Air rune •  Water rune •  Earth rune •  Fire rune •  Rune essence •  Pure essence •  Herb box •  Vial of water •  Scroll of redirection

Upgrades

 Black mask (imbued) •  Slayer helmet (imbued) •  Salve amulet (imbued) • Salve amulet (e) (imbued) •  Ring of suffering (imbued) •  Berserker ring (imbued) •  Warrior ring (imbued) •  Archers ring (imbued) •  Seers ring (imbued) •  Tyrannical ring (imbued) •  Treasonous ring (imbued) •  Ring of the gods (imbued) •  Crystal bow •  Crystal shield •  Crystal halberd

Benefits