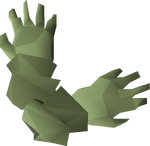 Karamja gloves 1 are the reward for completing all the Easy tasks in the Karamja Diary (you also receive a lamp that gives 1000 experience to a skill of your choice). According to Pirate Jackie the Fruit - when worn, the gloves can lower the cost of items in the various stores of Karamja. If a player chooses to destroy the gloves, the gloves can be obtained again by Pirate Jackie the Fruit in the Brimhaven Agility Arena. Alternatively, players can purchase one from Perdu for 900 coins should they lose it.
Bonuses
Hover over image for type

A player wearing Karamja gloves 1.
 Attack bonus
+1
+1
+1
+1
+1
 Defence bonus
+1
+1
+1
+1
+1
Other bonuses
Slot

list

+1
0
0%
+0
Ardougne Diary
Desert Diary
Falador Diary
Fremennik Diary
Kandarin Diary
Karamja Diary

| | |
| --- | --- |
| NPCs | Pirate Jackie the Fruit • Kaleb Paramaya • Jungle forester • TzHaar-Mej |
| Rewards | |

Lumbridge & Draynor Diary
Morytania Diary
Varrock Diary
Wilderness Diary
Western Provinces Diary
Ad blocker interference detected!
Wikia is a free-to-use site that makes money from advertising. We have a modified experience for viewers using ad blockers

Wikia is not accessible if you've made further modifications. Remove the custom ad blocker rule(s) and the page will load as expected.