Ad blocker interference detected!
Wikia is a free-to-use site that makes money from advertising. We have a modified experience for viewers using ad blockers

Wikia is not accessible if you've made further modifications. Remove the custom ad blocker rule(s) and the page will load as expected.
This article is about the boss variant of Cave krakens. For the normal Slayer monster, see
Cave kraken
.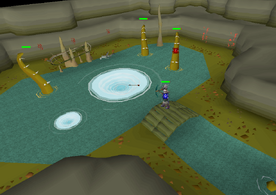 The Kraken is a stronger and larger version of the Cave kraken. It requires level 87 Slayer to kill. Located at the Stronghold Slayer Cave, it can only be attacked if you have cave krakens as a Slayer assignment, which also requires level 50 Magic. Along with these monsters and their non-boss variant, they are the only monsters that drop the Kraken tentacle.
As of an update on 19 March 2015, players can pay 25,000 coins (from their inventory or bank) to open an instanced version of the Kraken lair, where it will be inaccessible by other players. However, once players leave, the instance will expire and they will have to pay 25,000 coins to open another instance. If players leave any items in the instance, they will disappear. This means that if a player dies their items will not be retrievable.
In order for the Kraken to surface, players must disturb five whirlpools: Four small ones that contain an Enormous Tentacle, and the large one in the center will only cause the Kraken to surface if the player has disturbed the four small whirlpools. It should be noted that the Kraken and its tentacles can hit through Prayer, so it is advised to wear magic defence boosting equipment.
A good strategy is to bring along a toxic blowpipe for special attack. You should still bring an item like a magic shortbow to disturb the Enormous Tentacles. Use the blowpipe's special attack on a whirlpool and it will hit a 1, but like the Saradomin godsword, it will overheal; which heals you for the damage you would have dealt. This can sustain a player for a slightly longer period of time and make good use of the special attack energy, provided a player can obtain the blowpipe.
As with all monsters in the Stronghold Slayer Cave, they can only be attacked if you have them as a Slayer assignment.
Weapons/Armour
Edit
Runes/Ammunition
Edit
Materials
Edit
Rare drop table
In addition to the drops above, this monster also has access to the rare drop table.
Slayer Tower

 Crawling Hand (Superior) •  Banshee (Superior) •  Infernal Mage (Superior) •  Bloodveld (Superior) •  Aberrant spectre (Superior) •  Gargoyle (Superior) •  Nechryael (Superior) •  Abyssal demon (Superior) (Boss)

Fremennik Slayer Dungeon

 Cave crawler (Superior) •  Rockslug (Superior) •  Cockatrice •  Pyrefiend (Superior) •  Basilisk •  Jelly (Superior) •  Turoth •  Kurask (Superior)

Lumbridge Swamp Caves

 Cave bug •  Cave crawler (Superior) •  Cave slime •  Wall beast

God Wars Dungeon (Wilderness)

 Pyrefiend (Superior) •  Bloodveld •  Spiritual ranger •  Spiritual warrior •  Spiritual mage

Stronghold Slayer Cave

 Bloodveld •  Aberrant spectre (Superior) •  Gargoyle (Superior) •  Nechryael (Superior) •  Abyssal demon (Superior) (Boss) •  Cave kraken (Boss) •  Smoke devil (Superior) (Boss)

Catacombs of Kourend

 Deviant spectre (Superior) •  Mutated Bloodveld (Superior) •  Greater Nechryael •  Abyssal demon (Superior) •  Dust devil (Superior) •  Warped Jelly •  Twisted Banshee •  Dark beast (Superior)

Others

 Desert Lizard •  Mogre •  Harpie Bug Swarm •  Killerwatt •  Molanisk •  Terror dog •  Sea snake (Young) (Hatchling) •  Brine rat •  Fever spider •  Mutated zygomite •  Cave horror (Superior) •  Dust devil (Superior) •  Skeletal Wyvern •  Dark beast (Superior) •  Cerberus