This article is about the item required to make the abyssal tentacle. For the weapon, see
Abyssal tentacle
.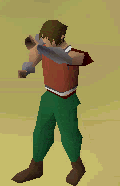 The Kraken tentacle is an item found by killing Cave krakens and its boss variant, Krakens in the Stronghold Slayer Cave. When attached to an abyssal whip, it creates the abyssal tentacle, which adds +8 to slash attacks and +4 to strength bonus. 75 attack is required to wield the abyssal tentacle.
A minimum of 87 Slayer is required if one wishes to obtain one as a drop. Due to the volatile nature of the tentacle, it will consume the whip component after it has dealt 10,000 hits, leaving you with the Kraken tentacle.
When using the items on each other there will be a warning message that states The tentacle will gradually consume your whip and destroy it. You won't be able to get the whip out again. The combined item is not tradeable.
The current cost of whips consumed per hour is 1.9m/ 6.6 hours of combat is roughly 288k an hour to use this whip. Therefore, it is recommended to use it against bosses or monsters that can provide a decent amount of profit.
The buy limit for Kraken Tentacle is 70 every 4 hours.
Dropping monsters
Edit
| Monster | Combat level | Quantity | Rarity |
| --- | --- | --- | --- |
| Cave kraken | 127 | 1 | |
| Kraken | 291 | 1 | |
The tentacle serves a similar role to RuneScape 3's Lava Whip, which the main component (the wyrm spike), is used to create the item and the said item consumes the whip.
Ad blocker interference detected!
Wikia is a free-to-use site that makes money from advertising. We have a modified experience for viewers using ad blockers

Wikia is not accessible if you've made further modifications. Remove the custom ad blocker rule(s) and the page will load as expected.