Lava dragons reside in the Lava Dragon Isle in the Wilderness (between level 36 and 42 Wilderness). They were formerly red dragons, but have spent too long surrounded by lava and have been transformed. Lava dragons attack with Melee, as well as with dragonfire. They are particularly weak to Magic, thus making Fire Bolt a slow but profitable method of killing them.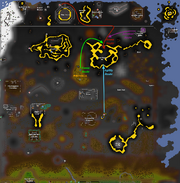 Lava dragons can be safespotted both inside and outside their isle. The many piles of skeletons and edges at the isle allow for players to safespot them inside. Alternatively, players can camp some of the southern spawns outside the isle, although they should be careful as Vet'ion can walk to their safespot and attack the players. Having 74 Agility and the hard Wilderness Diary completed is recommended when killing them to use the stepping stones to escape potential player killers, as their habitat is a popular PK'ing spot.
Bringing a pestle and mortar is optional to grind the scales into shards, in addition to High Level Alchemy runes to alch their common adamant and rune equipment drops. If killing them from outside the isle, Telekinetic Grab will be needed to grab their drops. Players should remember that although they can stay as long as they want using this method, they should rebank every 10-20 minutes due to the risk of PK'ers.
Lava dragons are the only monsters to drop the lava dragon bones, which give 85 Prayer experience when buried. However, burying them on Lava Dragon Isle grants 340 Prayer experience instead.
Although they drop black dragonhide, they do not count as black dragons for a Slayer task.
Reaching them
Edit
Runes/Ammunition
Edit
Weapons/Armour
Edit
Item
Quantity
Rarity
GE market price
Coins
66–3,000
Common
Not sold
Fire talisman
1
Uncommon
2,421
Fire orb
15 (noted)
Uncommon
16,050
Chocolate cake
3
Uncommon
1,068
Looting bag
1
Uncommon (1/30)
Not sold
Adamantite bar
2
Uncommon
4,358
Slayer's enchantment[1]
1
Uncommon
36,409
Mysterious emblem[1]
1
Uncommon
78,299
Draconic visage
1
Very rare (1/10,000)
9,701,535
Clue scroll (elite)
1
Rare (1/250)
Not sold
↑ 1.0 1.1 Only dropped while on a slayer assignment given by Krystilia.
Rare drop table
In addition to the drops above, this monster also has access to the rare drop table.
Show/hide rare drop table
Item
Quantity
Rarity
GE market price
Coins
3,000
Common
Not sold
Uncut sapphire
1
Common
1,437
Loop half of key
1
Common
10,242
Tooth half of key
1
Common
15,958
Uncut emerald
1
Uncommon
827
Uncut ruby
1
Uncommon
1,805
Nature talisman
1
Uncommon
1,022
Chaos talisman
1
Uncommon
474
Nature rune
67
Uncommon
15,276
Runite bar
1
Uncommon
12,554
Rune spear
1
Rare
12,116
Rune battleaxe
1
Rare
24,671
Rune 2h sword
1
Rare
38,053
Uncut diamond
1
Rare
3,544
Rune javelin
5
Rare
565
Silver ore
100 (noted)
Rare
7,800
Adamant javelin
20
Rare
1,400
Rune sq shield
1
Rare
22,482
Steel arrow
150
Rare
5,550
Rune arrow
42
Rare
4,662
Law rune
45
Rare
8,640
Death rune
45
Rare
16,335
Dragonstone
1
Rare
16,766
Rune kiteshield
1
Rare
32,519
Dragon med helm
1
Rare
59,302
Shield left half
1
Very rare
70,453
Dragon spear
1
Very rare
37,899
Bosses

Callisto • Chaos Elemental • Chaos Fanatic • Crazy archaeologist • King Black Dragon
Scorpia (Offspring)(Guardian) • Venenatis • Vet'ion (Skeleton Hellhound) (Greater Skeleton Hellhound)

Other monsters

Elder Chaos druid • Ent • Lava dragon • Mammoth • Runite Golem

Rewards

Shields

 Malediction ward(or) • (Shard 1) • (Shard 2) • (Shard 3)
 Odium ward(or) • (Shard 1) • (Shard 2) • (Shard 3)

Rings

 Ring of the gods (imbued) •  Treasonous ring (imbued) •  Tyrannical ring (imbued)

Boss pets

 Prince black dragon •  Pet chaos elemental •  Callisto cub
 Venenatis spiderling •  Vet'ion jr. •  Scorpia's offspring

Other

 Fedora •  Dragon pickaxe •  Amulet of eternal glory •  Wilderness Rogues' Chests
Ad blocker interference detected!
Wikia is a free-to-use site that makes money from advertising. We have a modified experience for viewers using ad blockers

Wikia is not accessible if you've made further modifications. Remove the custom ad blocker rule(s) and the page will load as expected.