Lava scale shard
Release date
27 March 2014 (Update)
Members only?
Yes
Quest item?
No
Tradeable?
Yes
Equipable?
No
Stackable?
Yes
High Alch
12 coins
Low Alch
8 coins
Destroy
Drop
Store price
Not sold
Exchange price

262

coins (info)
Buy limit
Unknown
Weight
0 kg
Examine
Ground-up lava dragon scale.
[view]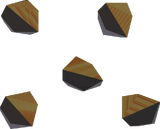 Lava scale shards are the result of using a Pestle and mortar on a Lava scale, which is dropped by Lava dragons. Players obtain 3-6 shards from grinding a scale.
They are an ingredient in extended antifires, which require 84 Herblore to create.