Ad blocker interference detected!
Wikia is a free-to-use site that makes money from advertising. We have a modified experience for viewers using ad blockers

Wikia is not accessible if you've made further modifications. Remove the custom ad blocker rule(s) and the page will load as expected.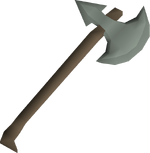 The leaf-bladed battleaxe is one of three melee weapons used to harm turoths and kurasks, the others being the leaf-bladed spear and sword.
The axe requires an Attack level of 65 and a Slayer level of 55 to wield. It is dropped by kurasks located in the Fremennik Slayer Dungeon.
The leaf-bladed battleaxe has a stronger melee strength bonus than the rune battleaxe and the dragon battleaxe, and has melee accuracy bonuses which fit between the two. However, unlike other battleaxes, the leaf-bladed battleaxe exhibits a faster attack speed of 5, instead of the usual 4.
Currently, the maximum possible hit of the leaf-bladed battleaxe is 59.
Bonuses
Hover over image for type
 Attack bonus
-2
+50
+72
+0
+0
 Defence bonus
+0
+0
+0
+0
-1
Other bonuses
Slot

list

+92
0
0%
+0
Combat styles
Edit
Dropping monsters
Edit
| Monster | Combat level | Quantity | Rarity |
| --- | --- | --- | --- |
| Kurask | 106 | 1 | |

 Bronze •

 Iron •

 Steel •

 Black •

 White •
 Mithril •
 Adamant •

 Rune •

 Leaf-bladed •

 Dragon
Equipment from Slayer Masters

 Broad arrows •  Earmuffs •  Facemask •  Insulated boots •  Leaf-bladed spear •  Nose peg •  Mirror shield •  Slayer gloves •  Slayer's staff •  Spiny helmet •  Lit bug lantern •  Witchwood icon

Items from Slayer Masters

 Bag of salt •  Enchanted gem •  Fishing explosive •  Fungicide spray •  Fungicide •  Rock hammer •  Ice cooler •  Slayer bell •  Broad arrowheads •  Unfinished broad bolts •  Broad arrowhead pack •  Unfinished broad bolt pack

Purchased with Slayer reward points

 Slayer ring •  Broad bolts •  Herb sack •  Slayer helmet (imbued) •  Black slayer helmet (imbued)  Green slayer helmet (imbued)  Red slayer helmet (imbued)

Others

 Black mask (imbued) •  Leaf-bladed sword •  Leaf-bladed battleaxe