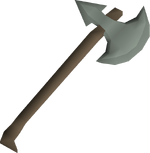 The leaf-bladed battleaxe is one of three melee weapons used to harm turoths and kurasks, the other being the leaf-bladed spear and sword.
The axe requires an Attack level of 65 and a Slayer level of 55 to wield. It is dropped by kurasks located in the Fremennik Slayer Dungeon.
The leaf-bladed battleaxe has a stronger melee strength bonus than the rune battleaxe and the dragon battleaxe, and has melee accuracy bonuses which fit between the two. However, unlike other battleaxes, the leaf-bladed battleaxe exhibits a faster attack speed of 5, instead of the usual 4.
Currently, the maximum possible hit of the leaf-bladed battleaxe is 57.
Bonuses
Hover over image for type
 Attack bonus
-2
+50
+72
+0
+0
 Defence bonus
+0
+0
+0
+0
-1
Other bonuses
Slot

list

+92
0
0%
+0
Combat styles
Edit
Dropping monsters
Edit
| Monster | Combat level | Quantity | Rarity |
| --- | --- | --- | --- |
| Kurask | 106 | 1 | |

 Bronze •

 Iron •

 Steel •

 Black •

 White •
 Mithril •
 Adamant •

 Rune •

 Leaf-bladed •

 Dragon
Equipment from Slayer Masters

 Broad arrows •  Earmuffs •  Facemask •  Insulated boots •  Leaf-bladed spear •  Nose peg •  Mirror shield •  Slayer gloves •  Slayer's staff •  Spiny helmet •  Lit bug lantern •  Witchwood icon

Items from Slayer Masters

 Bag of salt •  Enchanted gem •  Fishing explosive •  Fungicide spray •  Fungicide •  Rock hammer •  Ice cooler •  Slayer bell •  Broad arrowheads •  Unfinished broad bolts •  Broad arrowhead pack •  Unfinished broad bolt pack

Purchased with Slayer reward points

 Slayer ring •  Broad bolts •  Herb sack •  Slayer helmet (imbued) •  Black slayer helmet (imbued)  Green slayer helmet (imbued)  Red slayer helmet (imbued)

Others

 Black mask (imbued) •  Leaf-bladed sword •  Leaf-bladed battleaxe