Ad blocker interference detected!
Wikia is a free-to-use site that makes money from advertising. We have a modified experience for viewers using ad blockers

Wikia is not accessible if you've made further modifications. Remove the custom ad blocker rule(s) and the page will load as expected.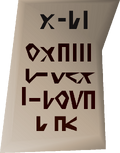 A letter is obtained from Rind the gardener in Keldagrim during the Forgettable Tale... quest, while the player is attempting to grow growing kelda hops, the player can talk to Rind about the activities one can do while wating for the Kelda hops to grow. Rind will ask the player to deliver a letter to Elstan south of Falador, offering seeds for the completion of the task. He will comment on the letter as "most enlightening". After the player returns to Rind, they will be rewarded with 2 marrentill seeds.
The letter can be read, and its text reads:
"
Dear Elstan

I have followed with enthusiasm your recent series of papers on the subject of cross-pollinating flowers in the B-branchof the alpha sub-family of the specialist flowers. Especially your last presentation at the Annual Asgarnia Gardening Conference was impressive and inspirational, even if other attendants didn't show much interest. They do not share our vison.

After returning to my home, I started with some experiments of my own and have found that certain combintions of cross-polination leads to triple herbicide resistance in cabbages. Practical applications of this discovery seem unlikely, but the theoretical implications are astounding! I'm looking foreward to publishing my results in the next conference. Perhaps it can be hosted in Keldagrim next time? Although I'm not sure how the underground setting would go down with other farmers.

"