Ad blocker interference detected!
Wikia is a free-to-use site that makes money from advertising. We have a modified experience for viewers using ad blockers

Wikia is not accessible if you've made further modifications. Remove the custom ad blocker rule(s) and the page will load as expected.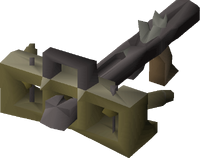 The Light ballista is a two-handed ranged weapon that uses javelins, including runite and dragon, as ammunition, requiring level 65 in Ranged to wield.
It is created by using ballista limbs on a light frame, then using the resulting incomplete light ballista on a ballista spring, and finally adding a monkey tail on an unstrung light ballista. The entire process requires level 47 in fletching, granting the player 330 experience.
The light ballista has a special attack, which increases accuracy and damage by 25% each for one shot, but takes an additional 2.4 seconds (four ticks) to fire.
Bonuses
Hover over image for type
 Attack bonus
+0
+0
+0
+0
+110
 Defence bonus
+0
+0
+0
+0
+0
Other bonuses
Slot

list

+0
0
0%
+0
Combat styles
Edit
Shortbows

 Normal(u) •  Oak(u) •  Willow(u) •  Maple(u) •  Yew(u) •  Magic(u) (i)

Longbows

 Normal(u) •  Oak(u) •  Willow(u) •  Maple(u) •  Yew(u) •  Magic(u)

Composite bows

Special bows

 Training •  Cursed goblin •  Ogre •  Seercull •  Dark •  3rd age •  Crystal

Crossbows

 Normal •  Phoenix •  Bronze •  Blurite •  Iron •  Steel •  Mithril •  Adamant •  Hunter's •  Rune •  Karil's •  Armadyl

Ballistae

 Light •  Heavy

Darts

 Bronze •  Iron •  Steel •  Black •  Mithril •  Adamant •  Rune •  Dragon •  Toxic blowpipe

Throwing knife
Javelins
Other items

 Cannon (Cannonball) •  Chinchompa •  Red chinchompa •  Black chinchompa •  Toktz-xil-ul •  Holy water • Arrows