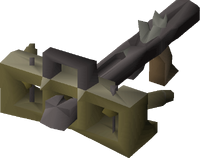 The Light ballista is a two-handed ranged weapon that uses javelins as ammunition, requiring level 30 in Ranged to wield.
It is created by using ballista limbs on a light frame, then using the resulting incomplete light ballista on a ballista spring, and finally adding a monkey tail on an unstrung light ballista. The entire process requires level 47 in fletching, granting the player 330 experience.
The light ballista has a special attack, which increases accuracy and damage by 25% each for one shot, but takes an additional 2.4 seconds (four ticks) to fire.
Bonuses
Hover over image for type
 Attack bonus
+0
+0
+0
+0
+75
 Defence bonus
+0
+0
+0
+0
+0
Other bonuses
Slot

list

+0
0
0%
+0
Combat styles
Edit
Shortbows

 Normal(u) •  Oak(u) •  Willow(u) •  Maple(u) •  Yew(u) •  Magic(u) (i)

Longbows

 Normal(u) •  Oak(u) •  Willow(u) •  Maple(u) •  Yew(u) •  Magic(u)

Composite bows

Special bows

 Training •  Cursed goblin •  Ogre •  Seercull •  Dark •  3rd age •  Crystal

Crossbows

 Normal •  Phoenix •  Bronze •  Blurite •  Iron •  Steel •  Mithril •  Adamant •  Hunter's •  Rune •  Karil's •  Armadyl

Ballistae

 Light •  Heavy

Darts

 Bronze •  Iron •  Steel •  Black •  Mithril •  Adamant •  Rune •  Dragon •  Toxic blowpipe

Throwing knife
Javelins
Other items

 Cannon (Cannonball) •  Chinchompa •  Red chinchompa •  Black chinchompa •  Toktz-xil-ul •  Holy water • Arrows