Ad blocker interference detected!
Wikia is a free-to-use site that makes money from advertising. We have a modified experience for viewers using ad blockers

Wikia is not accessible if you've made further modifications. Remove the custom ad blocker rule(s) and the page will load as expected.

The Light box is a puzzle given to the player when doing Master level Treasure Trails. The goal of the puzzle is to turn all of the lights on.
Methods & Strategies
Edit
The box contains 8 switches. Only one switch permutation of the 256 will light all of the lights. The 25 lights sit in a 5x5 grid.
One strategy is to concentrate on one light at a time and flip every switch, taking note on scratch paper of which switches control that light. Repeat this for all lights until finding one which is only controlled by one switch. The position of that switch which turns that light on is the permanent position of that switch. So you no longer need to check that switch and have halved the remaining switch permutations. In other words, finding one is twice as hard as finding the next with the first one being the hardest to find.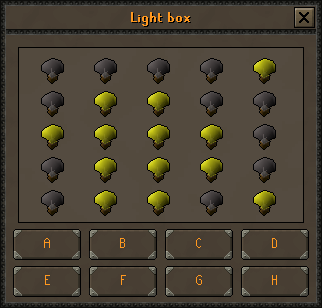 There is also a brute-force method, which requires turning the switches on in this order from left to right:
ABAC ABAD ABAC ABAE ABAC ABAD ABAC ABAF ABAC ABAD ABAC ABAE ABAC ABAD ABAC ABAG ABAC ABAD ABAC ABAE ABAC ABAD ABAC ABAF ABAC ABAD ABAC ABAE ABAC ABAD ABAC ABAH ABAC ABAD ABAC ABAE ABAC ABAD ABAC ABAF ABAC ABAD ABAC ABAE ABAC ABAD ABAC ABAG ABAC ABAD ABAC ABAE ABAC ABAD ABAC ABAF ABAC ABAD ABAC ABAE ABAC ABAD ABAC ABA
Trail difficulty

| | |
| --- | --- |
| Easy |  Clue scroll •  Clue bottle •  Clue nest •  Clue geode •  Reward casket |
| Medium |  Clue scroll •  Clue bottle •  Clue nest •  Clue geode •  Challenge scroll •  Reward casket |
| Hard |  Clue scroll •  Clue bottle •  Clue nest •  Clue geode •  Challenge scroll •  Reward casket |
| Elite |  Clue scroll •  Clue bottle •  Clue nest •  Clue geode •  Challenge scroll •  Reward casket |
| Master |  Clue scroll • Torn scroll (part 1) •  Torn scroll (part 2) •  Torn scroll (part 3) •  Light box •  Strange device •  Reward casket |