Looting bag
Discuss

3
9,519pages on
this wiki
The Looting bag is an item commonly dropped by monsters in the Wilderness, and cannot be picked up with Telekinetic Grab. Alternatively, players may purchase one from the Bounty Hunter Store with 150,000 points.
The looting bag can be used to store up to 28 items, but it can only be filled in the Wilderness and the items within can only be taken out in a bank. Because of this, Ultimate Iron Men only retrieve the items from within a looting bag by dying, this will destroy the looting bag. Players can only own one at a time. Nothing in it is kept on death, even if it is the most valuable. In addition, items inside the bag do not count as weight.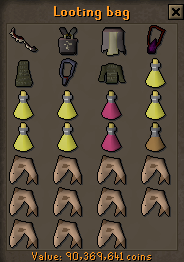 It is always lost on death, and if items are stored in it, the killer will receive the contents in the bag.
If a player attempts to store the looting bag while the storage interface is open, the message "You may be surprised to learn that bagception is not permitted." appears in the chatbox.
You cannot take the looting bag to Entrana if it contains any items prohibited from there. An empty looting bag or one that contains only allowed items is allowed.
Bounty Hunter

Rewards

Weapons

 Dragon scimitar •  Dragon longsword •  Dragon dagger •  Dragon battleaxe •  Dragon mace •  Dragon halberd •  Bolt rack •  Rune arrows •  Adamant arrows •  Crystal seed

Armour

 Helm of neitiznot •  Berserker helm •  Warrior helm •  Archer helm •  Farseer helm •  Mystic robe top •  Mystic robe bottom •  Mystic hat •  Mystic gloves •  Mystic boots •  Rune platebody •  Rune platelegs •  Rune plateskirt •  Climbing boots

Magic tablets

 Paddewwa •  Senntisten •  Annakarl •  Carrallangar •  Dareeyak •  Ghorrock •  Kharyrll •  Lassar

Cosmetic upgrades

| | |
| --- | --- |
| Cosmetic upgrade kits |  Green dark bow paint •  Yellow dark bow paint •  White dark bow paint •  Blue dark bow paint •  Volcanic whip mix •  Frozen whip mix •  Steam staff upgrade kit •  Dragon pickaxe upgrade kit •  Ward upgrade kit •  Granite clamp |
| Ornamented items |  Volcanic abyssal whip •  Frozen abyssal whip •  Steam battlestaff •  Dragon pickaxe •  Odium ward •  Malediction ward •  Granite maul |

Miscellaneous

 Ring of wealth scroll •  Magic shortbow scroll •  Saradomin's tear •  Saradomin's blessed sword •  Rune pouch •  Looting bag •  Clue box •  Bounty teleport scroll •  Hunter's honour •  Rogue's revenge