Ad blocker interference detected!
Wikia is a free-to-use site that makes money from advertising. We have a modified experience for viewers using ad blockers

Wikia is not accessible if you've made further modifications. Remove the custom ad blocker rule(s) and the page will load as expected.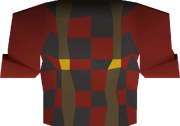 The Lumberjack top is a part of the Lumberjack clothing set dropped by Undead Lumberjacks in the Temple Trekking minigame. It provides a +0.8% boost in Woodcutting experience, and is increased to +2.5% when the full set is worn.
Bonuses
Hover over image for type
 Attack bonus
+0
+0
+0
+0
+0
 Defence bonus
+0
+0
+0
+0
+0
Other bonuses
Slot

list

+0
0
0%
+0
Woodcutting

Lumberjack outfit •  Hat •  Top •  Legs •  boots

Mining

Prospector kit •  Helmet •  Jacket •  Legs •  Boots

Fishing

Angler's outfit •  Hat •  Top •  Waders •  Boots

Farming

Farmer's outfit •  Strawhat •  Jacket (Shirt) •  Boro trousers •  Boots

Firemaking

Pyromancer outfit •  Hood •  Garb •  Robe •  Boots