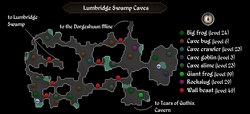 The Lumbridge Swamp Caves are a dangerous tunnel network beneath Lumbridge Swamp. The entrance is located just south-west of Lumbridge castle - you will need a rope if you use this entrance. It is a dungeon where mostly slayer monsters dwell. To enter, you will need a light source, for example a bullseye lantern (bug lantern will not work as a light source), rope, a spiny helmet, anti-poison potion is recommended (one full potion is enough unless fighting cave crawlers) and a tinderbox. Some of the creatures below are slayer assignments. You must start The Lost Tribe quest to access it via the Lumbridge cellar.
In some areas of the cave, an open light source (such as a candle and torch) can ignite dangerous swamp gas and cause an explosion, dealing heavy damage and extinguishes the light source, and you are vulnerable to becoming poisoned in the dark. You will need a tinderbox to relight it.
You need a spiny helmet to protect from the Wall Beasts, who deal lots of damage if you don't have one equipped.
You can net fish for giant frog spawn in these caves. You will need 33 fishing to catch them.
Personalities
Edit
Juna - the guardian to the Tears of Guthix cave.
The Lost Tribe
The Power of the Tears
Tears of Guthix