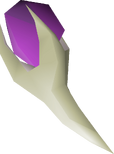 The magic fang is obtained from killing Zulrah. With level 59 crafting, it can be used with either a staff of the dead or an uncharged trident of the seas to create the toxic staff of the dead or trident of the swamp, respectively.
The magic fang can be safely removed after being attached, as long as the item it is attached to is uncharged.
Players can dismantle the fang to receive 20,000 Zulrah's scales, resulting in a loss of -1,205 coins.
Dropping monsters
Edit
| Monster | Combat level | Quantity | Rarity |
| --- | --- | --- | --- |
| Zulrah | 725 | 1 | |
Monsters

Signature drops

 Zulrah's scales •  Tanzanite fang •  Magic fang •  Serpentine visage •  Magma mutagen •  Tanzanite mutagen •  Jar of swamp •  Pet snakeling •  Zul-andra teleport

Equipment

 Toxic blowpipe •  Toxic staff of the dead •  Trident of the swamp •  Serpentine helm •  Magma helm •  Tanzanite helm

Other

High Priestess Zul-Harcinqa • Priestess Zul-Gwenwynig •  Anti-venom •  Anti-venom+
Ad blocker interference detected!
Wikia is a free-to-use site that makes money from advertising. We have a modified experience for viewers using ad blockers

Wikia is not accessible if you've made further modifications. Remove the custom ad blocker rule(s) and the page will load as expected.