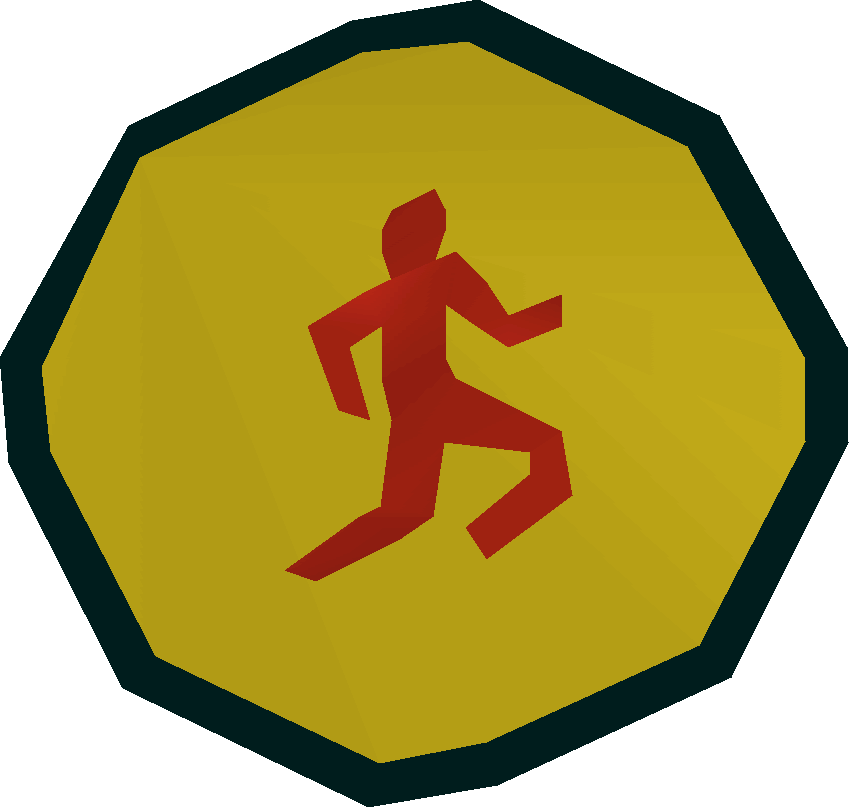 The Mark of grace is a type of currency that can be only be obtained from the Rooftop Agility Courses. The marks are exclusively used to purchase the pieces of the graceful outfit and amylase, which is the secondary ingredient for creating stamina potions.
Obtaining marks of grace
Edit
Marks of grace are obtained randomly while traversing obstacles on agility course with higher level courses have a greater chance of spawning marks. Players have 10 minutes to pick up the mark before it disappears. Marks can spawn at different specific locations along a course. It is possible for marks to spawn on the same tile.
Chances of obtaining marks of grace reduced to 20% of the normal rate if the players' Agility level is 20 levels higher than the course requirement.[1]. The chance reduction is not incremental, as long as your agility level is not 20 levels or higher than the requirement, the chances are not reduced.[2]
Achievement Diary Boosts
Edit
Players who have completed the easy, medium and hard Kandarin Diary will increase the chance of receiving marks of grace during the Seers' Village Agility Course by 5%, 10% and 15% respectively.
Completing the elite Ardougne Diary will increase the chance of receiving marks of grace during the Ardougne Agility Course by 25%.
Canifis Agility Course
Edit
Canifis Agility Course has the greatest chance of spawning marks, for players between level 40 to 59 Agility, because of the numerous obstacles players must traverse compared to the other courses. It is recommended that players use this course exclusively until 60 agility to obtain a full set of graceful outfit.
Spending marks of grace
Edit
Marks of grace can be traded in at the Rogues' Den through Grace, an NPC who sells the graceful outfit as well as Amylase packs for marks of grace. The price of each piece of grace varies, some costing more or less than others. In addition, players must pay marks of grace to recolour their graceful outfits to one of six different colours by talking to Osten in the Shayzien House in Great Kourend.
Considering the price of Amylase crystals, a mark of grace is worth 9,990.
References
Edit
Tradeable

 Coins •  Archery tickets •  Platinum token •  Trading sticks •  Survival token

Untradeable

 Agility arena tickets •  Blood money •  Castle wars tickets •  Ecto-tokens •  Frog tokens •  Golden nuggets •  Marks of grace •  Paramaya tickets •  Pieces of eight •  Reward token •  Tokkul •  Warrior guild tokens

Virtual

Bounty Hunter points • Honour points • Nightmare Zone reward points • Pizazz points • Slayer reward points • Void Knight commendation points
Ad blocker interference detected!
Wikia is a free-to-use site that makes money from advertising. We have a modified experience for viewers using ad blockers

Wikia is not accessible if you've made further modifications. Remove the custom ad blocker rule(s) and the page will load as expected.