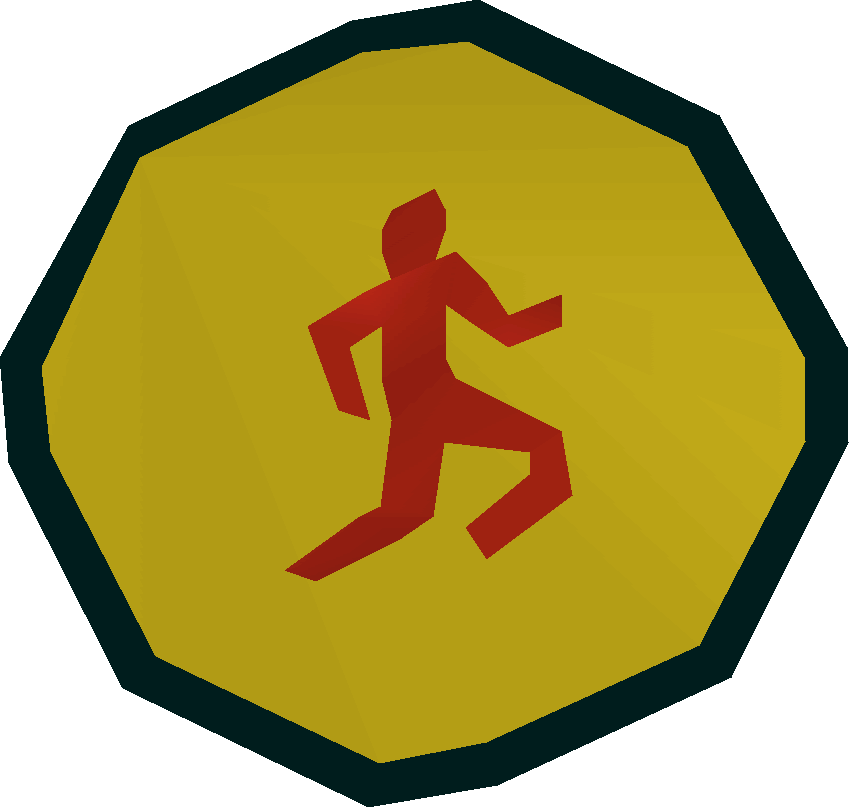 The mark of grace is a token that can be obtained on a semi-random basis from the Rooftop Agility Courses. The tokens appear at specific locations on the ground during the course of a lap in varying degrees of frequency, and despawn after 10 minutes if they are not picked up. Multiple marks of grace can spawn on the course, and they can also stack on the same tile at the Ardougne Agility Course. The likelihood of obtaining a mark of grace varies based on the difficulty of the course, with higher level courses having a greater chance of spawning them.
Completing the easy, medium and hard Kandarin Diary will increase the chance of receiving marks of grace during the Seers' Village Agility Course by 5%, 10% and 15% respectively.
Completing the elite Ardougne Diary will increase the chance of receiving marks of grace during the Ardougne Agility Course by 25%.
Marks of grace spawn most often along the Canifis rooftop course between the levels of 40 and 59 agility. Because of this, players who are going for the Graceful outfit are recommended to train here between those levels. It is possible to obtain the entire outfit before level 60 agility because of this.
A player's Agility level does affect the chances of one appearing. Chances of receiving marks of grace decrease to 20% when your Agility level is 20 levels higher than the requirement of the agility course.[1] The decrease is not gradual, so if you are 19 levels higher than the requirement, your chances are not decreased.[2]
Marks of grace can be traded in at the Rogues' Den through Grace, an NPC who sells the graceful outfit as well as Amylase packs for marks of grace. The price of each piece of grace varies, some costing more or less than others. In addition, players must pay marks of grace to recolour their graceful outfits to one of six different colours by talking to Osten in the Shayzien House in Great Kourend.
Considering the price of Amylase crystals, a mark of grace is worth 13,450.
References
Edit
Tradeable

 Coins •  Archery tickets •  Platinum token •  Trading sticks •  Survival token

Untradeable

 Agility arena tickets •  Blood money •  Castle wars tickets •  Ecto-tokens •  Frog tokens •  Golden nuggets •  Marks of grace •  Paramaya tickets •  Pieces of eight •  Reward token •  Tokkul •  Warrior guild tokens

Virtual

Bounty Hunter points • Honour points • Nightmare Zone reward points • Pizazz points • Slayer reward points • Void Knight commendation points