Ad blocker interference detected!
Wikia is a free-to-use site that makes money from advertising. We have a modified experience for viewers using ad blockers

Wikia is not accessible if you've made further modifications. Remove the custom ad blocker rule(s) and the page will load as expected.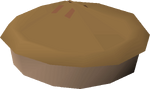 A meat pie is a pie that requires two bites to be fully consumed, healing 6 per bite, thus giving players a bit more hitpoints than other foods. For example, when a player eats a pie, they will only eat one half of it. The other half will stay in the dish which can be consumed later. Meat pies can be obtained from looting implings or through the Cooking skill.
There are two servings per pie. Eating a meat pie produces a half a meat pie.
A meat pie may be bought at The Forester's Arms (a pub located in Seers' Village) for 16 coins by talking to the bartender and from the West Ardougne General Store for 18 coins, or it may be received from the Sandwich lady when she tells you to take a pie.
Cooking a meat pie yields 105 cooking experience. Cooking the meat yourself gives 30 experience, for a total of 135 experience from start to finish.
Dropping monsters
Edit
Half a meat pie
Edit
| Monster | Combat level | Quantity | Rarity |
| --- | --- | --- | --- |
| Zombie | Varies | 1 | |
Cooking a meat pie
Edit
To make pie, players need to mix flour and water together to make some Pastry dough. Players then need to use the dough with a Pie dish. The pie shell must then be filled with one cooked meat to make an uncooked meat pie. The pie can then be baked either on a range or using the lunar spell Bake Pie. You need a cooking level of 20 to make a meat pie, but it would be best to wait until level 32 cooking as you can then access the Cooking guild, where you can cook these much more efficiently.
Pies

 Redberry pie •  Meat pie •  Mud pie •  Apple pie •  Garden pie •  Fish pie •  Botanical pie •  Admiral pie •  Wild pie •  Summer pie

Raw pies

 Raw admiral pie •  Raw fish pie •  Raw garden pie •  Raw mud pie •  Raw summer pie •  Raw wild pie •  Uncooked apple pie •  Uncooked berry pie •  Uncooked botanical pie •  Uncooked meat pie

Ingredients

 Pastry dough •  Pie shell •  Redberries •  Cooked meat •  Compost •  Cooking apples •  Tomato •  Onion •  Cabbage •  Trout •  Cod •  Raw potato •  Salmon •  Tuna •  Raw bear meat •  Raw chompy •  Raw rabbit •  Strawberry •  Watermelon •  Golovanova fruit top

Part pies

 Part admiral pie 1 •  Part admiral pie 2 •  Part fish pie 1 •  Part fish pie 2 •  Part garden pie 1 •  Part garden pie 2 •  Part mud pie 1 •  Part mud pie 2 •  Part summer pie 1 •  Part summer pie 2 •  Part wild pie 1 •  Part wild pie 2