Ad blocker interference detected!
Wikia is a free-to-use site that makes money from advertising. We have a modified experience for viewers using ad blockers

Wikia is not accessible if you've made further modifications. Remove the custom ad blocker rule(s) and the page will load as expected.
For a list of all items and upgrades within the Construction skill, see Construction/All milestones.
The Menagerie in a player-owned house is a room where pets can be stored, and various features to play with pets.
There are two versions of this room, an indoor and outdoor version; both of which can be created with 37 Construction and 30,000 coins. However, you can only have one menagerie at a time.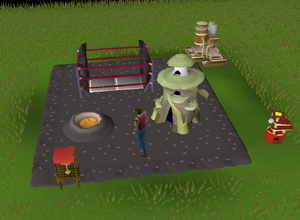 There are 6 different hotspots available:
Scratching post - From time to time, a cat in a player-owned house will use this post to scratch on.
Pet feeder - You can use this to feed your pets if they are hungry.
Pet house - You can store your pets here. 
Habitat - You can make scenery in this room for your pets to live in. This can only be made in an outdoor menagerie.
Arena - You can have your pets battle here.
Pet list - Shows currently owned pets stored in your house.
Scratching post
Edit
Pet feeder
Edit
Pet house
Edit
Pet houses are constructed in upgrades: before a higher level pet house can be built, you must first build the one before it.
| Item | Image | Level | Materials | Experience | Limit |
| --- | --- | --- | --- | --- | --- |
| Oak house | | 37 | 4 oak planks | 240 | 3 pets |
| Teak house | | 48 | Oak house, 4 teak planks | 360 | 5 pets |
| Mahogany house | | 59 | Teak house, 4 mahogany planks | 560 | 7 pets |
| Consecrated house | | 70 | Mahogany house, 4 mahogany planks, 1 magic stone | 1,560 | 9 pets |
| Desecrated house | | 81 | Consecrated house, 1 mahogany plank, 1 limestone brick | 160 | 12 pets |
| Nature house | | 92 | Desecrated house, 1 mahogany plank, 2 buckets of water, 3 supercompost | 158 | 40 pets |
Habitat (Outdoor Menagerie only)
Edit
 Garden •
 Parlour •

 Kitchen •

 Dining Room •

 Workshop •

 Bedroom •

 Skill Hall •
 Games room •

 Combat Room •

 Quest Hall •

 Menagerie •

 Study •

 Costume Room •

 Chapel •

 Portal Chamber •

 Formal Garden •

 Throne Room •

 Oubliette •

 Superior Garden •

 Dungeon •

 Treasure Room •
 Achievement Gallery
Pet list

 Pet list

Pet houses

 Oak house •  Teak house •  Mahogany house •  Consecrated house •  Desecrated house •  Nature house

Pet feeders

Scratching posts

 Oak scratching post •  Teak scratching post •  Mahogany scratching post

Arenas

Habitats

 Grassland habitat •  Forest habitat •  Desert habitat •  Polar habitat •  Volcanic habitat