Ad blocker interference detected!
Wikia is a free-to-use site that makes money from advertising. We have a modified experience for viewers using ad blockers

Wikia is not accessible if you've made further modifications. Remove the custom ad blocker rule(s) and the page will load as expected.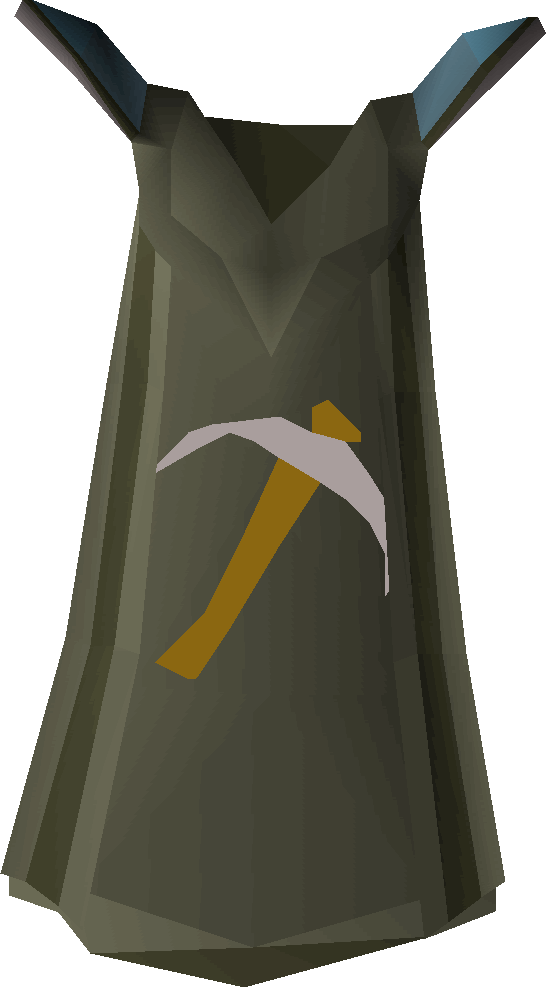 A Mining cape can be purchased for 99,000 coins alongside the Mining hood from a dwarf at the Mining Guild entrance by players who have achieved level 99 Mining. It is the Cape of Accomplishment, also commonly called a skill cape, for the Mining skill. Mining capes are brown-greyish in colour, have the mining skill icon, and have a light blue trim if the player has more than one level 99 skill.
Like all skill capes, the Mining cape gives +9 to all defensive stats, and also a +4 bonus to prayer if it is trimmed, which requires a separate skill at level 99. The cape is automatically trimmed if this condition is met.
When the mining cape is equipped, there is a 5% chance of receiving an extra ore while mining ore up to adamantite. This effect stacks with Varrock armour.
As of 1 December 2016, there are 2,525 current members that have achieved level 99 in Mining.
Bonuses
Hover over image for type

A player wearing an untrimmed Mining cape

A player wearing a trimmed Mining cape
 Attack bonus
+0
+0
+0
+0
+0
 Defence bonus
+9
+9
+9
+9
+9
Other bonuses
Slot

list

+0
0
0%
+0 (+4 trimmed)
Capes

 Agility (Hood) •  Attack (Hood) •  Hitpoints (Hood) •  Construction (Hood) •  Cooking (Hood) •  Crafting (Hood) •  Defence (Hood) •  Farming (Hood) •  Firemaking (Hood) •  Fishing (Hood) •  Fletching (Hood) •  Herblore (Hood) •  Hunter (Hood) •  Magic (Hood) •  Mining (Hood) •  Prayer (Hood) •  Ranging (Hood) •  Runecrafting (Hood) •  Slayer (Hood) •  Smithing (Hood) •  Strength (Hood) •  Thieving (Hood) •  Woodcutting (Hood) •  Quest point (Hood) •  Achievement diary (Hood) •  Music (Hood) •  Max (Hood)

Cape sellers

 Cap'n Izzy No-Beard •  Ajjat •  Surgeon General Tafani •  Estate agent •  Head chef •  Master Crafter •  Harlan •  Martin the Master Gardener •  Ignatius Vulcan •  Master fisher •  Hickton •  Kaqemeex •  Hunting expert •  Robe Store owner •  Dwarf •  Brother Jered •  Armour salesman •  Aubury •  Duradel •  Thurgo •  Sloane •  Martin Thwait •  Woodsman tutor •  Wise Old Man •  Twiggy O'Korn •  Olaf the Bard •  Mac

Emote

Skill Cape