Ad blocker interference detected!
Wikia is a free-to-use site that makes money from advertising. We have a modified experience for viewers using ad blockers

Wikia is not accessible if you've made further modifications. Remove the custom ad blocker rule(s) and the page will load as expected.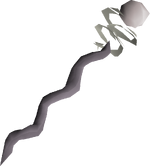 The Mist battlestaff is a magical staff that requires 30 Attack and 30 Magic. When equipped the staff provides an infinite amount of air and water runes.
The staff is dropped by superior slayer monsters and waterfiends. Players can give 40,000 coins to Thormac, after the completion of the Scorpion Catcher quest, to upgrade the staff to a Mystic mist staff.
Bonuses
Hover over image for type
 Attack bonus
+7
-1
+28
+10
+0
 Defence bonus
+2
+3
+1
+10
+0
Other bonuses
Slot

list

+35
0
0%
+0
Spells that use both water and air runes
Edit
| Icon | Spell | Level | Runes | Exp | Category | Spell Group | Notes |
| --- | --- | --- | --- | --- | --- | --- | --- |
| | Water Strike | 5 | 111 | 7.5 | Combat | Standard | Maximum of 4 damage per cast. |
| | Water Bolt | 23 | 122 | 16.5 | Combat | Standard | Maximum of 10 damage per cast. |
| | Falador Teleport | 37 | 113 | 47 | Teleport | Standard | Transports the caster to the centre of Falador, next to the statue of Saradomin. |
| | Water Blast | 47 | 133 | 28.5 | Combat | Standard | Maximum of 14 damage per cast. |
| | Water Wave | 65 | 175 | 37.5 | Combat | Standard | Maximum of 18 damage per cast. |
Staves

 Staff •  Magic staff •  White •  Air •  Water •  Earth •  Fire •  Ancient staff •  Iban's (upgraded) •  Toktz-mej-tal •  Ahrim's staff •  Staff of the dead •  Toxic staff of the dead

Battlestaves

 Battlestaff •  Air •  Water •  Earth •  Fire •  Lava •  Mud •  Steam (or) •  Smoke •  Mist •  Dust

Mystic staves

 Air •  Water •  Earth •  Fire •  Lava •  Mud •  Steam (or) •  Smoke •  Mist •  Dust

God staves
Croziers

Other staves

 Broken •  Staff of armadyl •  Skull sceptre •  Dramen •  Lunar •  Rod of ivandis •  Slayer's •  Trident of the seas •  Trident of the swamp •  Pharaoh's sceptre •  Void knight mace