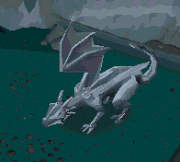 Mithril dragons can be found and fought in the Ancient Cavern. To access the Ancient Cavern, the player needs to start the Pyre ship section of Firemaking in Barbarian Training. Be wary as these monsters are extremely powerful. Their release shattered the King Black Dragon's long-standing record as being the strongest dragon in RuneScape, holding the record until the release of Brutal black dragons on 9 June 2016. It is strongly recommended to use Antifire potions in conjunction with an Anti-dragon shield (or a Dragonfire shield) when fighting these along with the appropriate protection Prayer.
The ability to be assigned mithril dragons can be purchased for 80 Slayer reward points. Once unlocked, they can be disabled, but players must spend another 80 points to unlock them again.
Slayer Masters offer to convince Mithril Dragons to drop their bars in noted form while on a slayer assignment, for a cost of 200 slayer points
Mithril dragons can be found on the top level of the Ancient Cavern. Please note that dwarf multicannons are not allowed in the Ancient Cavern.
To access the Ancient Cavern, one must have completed the first part of Barbarian Firemaking training and then talked to Otto about pyre ships. After the conversation is over, the player can now go in the whirlpool. Upon entering, one must climb down stairs and then run south to a set of stairs leading up to the mithril dragons. 
Weapons/Armour
Edit
↑

1/250 from chewed bones
Runes/Ammunition
Edit
Rare drop table
In addition to the drops above, this monster also has access to the rare drop table.
Ad blocker interference detected!
Wikia is a free-to-use site that makes money from advertising. We have a modified experience for viewers using ad blockers

Wikia is not accessible if you've made further modifications. Remove the custom ad blocker rule(s) and the page will load as expected.