Ad blocker interference detected!
Wikia is a free-to-use site that makes money from advertising. We have a modified experience for viewers using ad blockers

Wikia is not accessible if you've made further modifications. Remove the custom ad blocker rule(s) and the page will load as expected.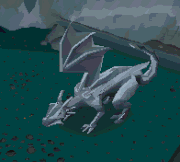 Mithril dragons drop Rune items and Blood runes commonly, but their most valuable and highly sought drops are the elusive Draconic visage and the fabled Dragon full helm. Although still rare, the latter can also be obtained by burning pyre ships with the Chewed bones that they also drop. They can be killed with all three combat styles.
Although Melee is probably the least efficient way of killing them especially with an Abyssal whip, it can be remedied by equipping a Zamorakian hasta, which is the best stab weapon, with either Verac's or Karil's armour. The Zamorakian hasta is the best choice followed by the Leaf-bladed sword and followed by Dragon longsword set on stab. Using slash weapons such as an Abyssal whip is not recommended as the dragons take very long to kill.
Players can choose to maximize Melee defence with said Barrows armour and a Dragonfire shield while using Protect from Magic. Alternatively, wear high magic-resistant armour such as Black d'hide or Karil's, and use Protect from Melee. Pray according to your armour's weakness, so activate Protect from Magic if wearing Verac's or Protect from Melee if wearing Karil's. Depending on your protection Prayer,[1] their max hit is either 28 with Melee or 18 with Magic or Ranged, so it's strongly advised to stay above 40 HP for safety.
Skills:
Equipment:
Inventory:
Notes:
It's recommended to maximize Ranged attack bonus and Magic defence bonus. Ruby bolts (e) and Diamond bolts (e) are very useful. Ranged can be feasible, but using Diamond bolts (e) can be costly. Broad bolts can be used instead, but it lengthens the kill. Ruby bolts (e) are good for using the special to halve the dragon's HP, but they're no good when the dragon is weakened. Again, when using Magic or Ranged, players can decide to use Protect from Range if attacking from a distance or Protect from Melee if attacking up close. Depending on your choice, use either Protect from Missiles or Protect from Melee[1] since Ranged armour defends well against Magic, but standing close to the dragon will prompt it to use Melee more than the other styles. This can be more advantageous than attacking at a distance. Still keep your health at 40 or above though just in case!
Skills:
Equipment:
Inventory:
Notes:
↑ A one-click teleport like a Teleport to House should be brought in case of emergency!
↑ Saradomin brews and Super restores can also be used, but try to keep the ratio 3:1 where it's 3 brews to 1 restore.