Ad blocker interference detected!
Wikia is a free-to-use site that makes money from advertising. We have a modified experience for viewers using ad blockers

Wikia is not accessible if you've made further modifications. Remove the custom ad blocker rule(s) and the page will load as expected.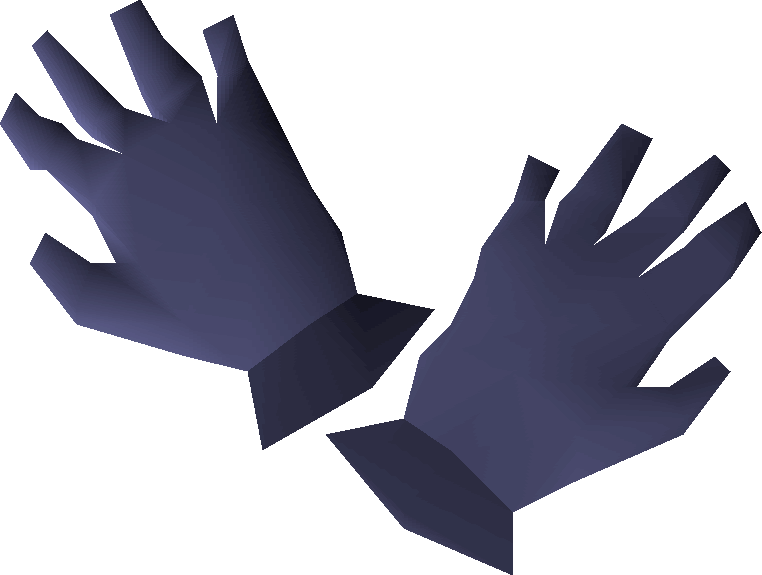 Mithril gloves are special metal gloves that can be bought from the Culinaromancer's Chest after completion of 5 sub-quests of the Recipe for Disaster quest. They are notable as being the best metal gloves obtainable without gaining Defence experience, and therefore can be equipped at level 1 Defence. Their bonuses are similar to a Combat Bracelet.
As with all glove-based melee equipment, this item cannot be made using the Smithing skill.
Bonuses
Hover over image for type

A player wearing mithril gloves
 Attack bonus
+6
+6
+6
+3
+6
 Defence bonus
+6
+6
+6
+3
+6
Other bonuses
Slot

list

+6
0
0%
+0

 Hardleather •

 Bronze •

 Iron •

 Steel •
 Black •
 Mithril •

 Adamant •
 Rune •

 Dragon •
 Barrows
Melee weapons

 Dagger •  Axe •  Mace •  Claws •  Sword •  Longsword •  Scimitar •  Spear •  Warhammer •  Battleaxe •  Two-hander •  Halberd •  Hasta •  Pickaxe

Ranged weapons/ammo

 Crossbow •  Bolts •  Arrows •  Brutal arrows •  Throwing axe •  Throwing knife •  Javelin •  Darts

Armour

 Medium helm •  Full helm (g) (t) •  Chainbody •  Platebody (g) (t) •  Gloves •  Square shield •  Kiteshield (g) (t) •  Platelegs (g) (t) •  Plateskirt (g) (t) •  Boots •  Defender

Other

 Bar •  Nails •  Arrowtips •  Javelin heads •  Dart tips •  Unfinished bolts •  Broken axe •  Broken pickaxe •  Rod of ivandis •  Grapple •  Grapple Tip •  Grapple (unf)