Ad blocker interference detected!
Wikia is a free-to-use site that makes money from advertising. We have a modified experience for viewers using ad blockers

Wikia is not accessible if you've made further modifications. Remove the custom ad blocker rule(s) and the page will load as expected.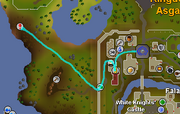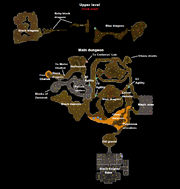 This guide assumes 100 kills per hour. Your profit per hour may vary depending on your speed.
Blue dragons, found in the Taverley Dungeon, always drop dragon bones and blue dragonhide (along with many other chance drops), which sell for 3,120 and 2,242 respectively. This makes each kill worth 5,362 coins.
Additionally, these dragons can also be attacked safely and effectively with Ranged (level 70+ recommended) or Magic (Fire Bolt or Fire Blast recommended). Nonetheless, 90 Combat or higher is recommended for engaging these dragons with Melee.
Each trip will require a few minutes to bank hides and bones and return to the dungeon. The best method of banking is to teleport to Falador using a Falador teleport tablet, bank at Falador West Bank, and return to the dungeon by using the shortcut in the western wall of the city (west of the Falador west bank) and running north-west. With 70 Agility, the Agility shortcut to the blue dragon area may be used, and running from the Falador west bank to this area of the dungeon only takes a couple of minutes. The shortcut can be used at 65 Agility, but will require the use of Summer pies to boost to 70 Agility. Regardless, having at least 65 Agility is recommended to use the pipe shortcut because it is very time consuming to run around the dungeon and will require the player to bring the dusty key, which will greatly reduce kills per hour.
Kills per hour may be maximized by picking up drops in rotation, as it takes a second or two for each dragon's drops to appear after being killed.
Players could also use
imp-in-a-box
to extend the length of their trips. Each imp will bank two items. The resulting
magic boxes
should be dropped, as they are worth significantly less than dragon bones and blue dragonhides. It should be noted, however, that imp-in-a-box are untradeable, and should only be used by players who have an excess of them as a result of training
Hunter
. It is inefficient to collect imp-in-a-box for the purpose of killing blue dragons to make money.
---
Due to constantly changing prices on the Grand Exchange, some information in this article may or may not be current.
It is strongly recommended to check the live prices on the Grand Exchange before making large investments in any method.
All prices on this page are cached, meaning it is possible that they appear out of date.
To force a new cache of this page,
click this link
.
If a money making method is out of date, you can
edit it
or
leave a message on the talk page
.