Ad blocker interference detected!
Wikia is a free-to-use site that makes money from advertising. We have a modified experience for viewers using ad blockers

Wikia is not accessible if you've made further modifications. Remove the custom ad blocker rule(s) and the page will load as expected.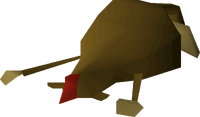 Monkey corpses are what is left after killing a level 3 monkey. The monkey must be killed by range, magic, or a halberd. The player must have started Tai Bwo Wannai Trio in order for a monkey to leave its corpse behind when killed. After the quest is complete, the player may once again kill monkeys using melee and will always receive a monkey corpse unless they are on a free-to-play server.
If a player attempts to use a knife on it before starting the below quests, they will receive a message saying: "You don't know how to skin a monkey...yet." although the player will receive this message even after they have completed the quest, since the player does not end up skinning a monkey themselves.
During Tai Bwo Wannai Trio, it is used to get Monkey skin. During Monkey Madness and later on, it can be used to make Monkey greegrees.
When seaweed is used on it, it becomes a stuffed monkey which can save you an inventory slot during Tai Bwo Wannai Trio.