Ad blocker interference detected!
Wikia is a free-to-use site that makes money from advertising. We have a modified experience for viewers using ad blockers

Wikia is not accessible if you've made further modifications. Remove the custom ad blocker rule(s) and the page will load as expected.

The monkey skull can be seen in an inaccessible room packed with Monkey Zombies in the Temple of Marimbo Dungeon under the Temple of Marimbo on Ape Atoll. It is impossible to obtain because the 'locked door' to the room is (according to the minimap) a wall. This also means that it is impossible to cast Telekinetic Grab here. However, if the hard tasks of the Western Provinces Diary is completed, the wall can be opened to pick up the skull.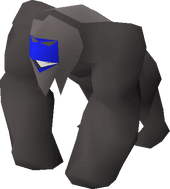 This skull can be used to create an ancient gorilla greegree that allows the player to transform into an ape similar to the bearded gorilla greegree with a blue face.
Greegrees

 Karamjan •  Small zombie •  Big zombie •  Small ninja •  Medium ninja •  Gorilla •  Bearded gorilla •  Ancient gorilla

Bones

 Karamjan •  Small zombie •  Big zombie •  Small ninja •  Medium ninja •  Gorilla •  Bearded gorilla •  Monkey skull

Other