Ad blocker interference detected!
Wikia is a free-to-use site that makes money from advertising. We have a modified experience for viewers using ad blockers

Wikia is not accessible if you've made further modifications. Remove the custom ad blocker rule(s) and the page will load as expected.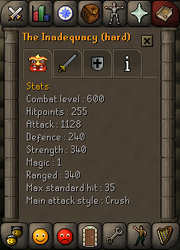 Monster Examine is a lunar spell that requires 66 Magic plus the quests Dream Mentor and Lunar Diplomacy to be cast. It costs 1 Mind Rune, 1 Cosmic Rune, and 1 Astral Rune to cast and grants 66 Magic experience per cast.
Information
Edit
The spell gives a large amount of information about the monster examined in four tabs:
Spell cost

| Input | Cost |
| --- | --- |
| 111 | 310 |
Teleport

 Lunar Home •  Moonclan •  Ourania •  Waterbirth •  Barbarian Outpost •  Khazard •  Fishing Guild •  Catherby •  Ice Plateau

Group Teleport

 Moonclan •  Waterbirth •  Barbarian Outpost •  Khazard •  Fishing Guild •  Catherby •  Ice Plateau

Skill-related

 Bake Pie •  Cure Plant •  Fertile Soil •  Humidify •  Hunter Kit •  Magic Imbue •  Superglass Make •  Tan Leather •  String Jewellery •  Plank Make •  Recharge Dragonstone •  Geomancy •  Spin Flax

Healing or Curing

 Cure Other •  Cure Me •  Cure Group •  Dream •  Heal Other •  Heal Group

Sharing

 Stat Restore Pot Share •  Boost Potion Share •  Energy Transfer

Others

 Monster Examine •  NPC Contact •  Spellbook Swap •  Stat Spy •  Vengeance •  Vengeance Other