Morytania Diary
Release date
5 March 2015 (Update)
Area(s)
Morytania, Paterdomus, Harmony Island and Mos Le'Harmless
Members only?
Yes
Item Reward
Platelegs
Lamp XP rewards
2,500
7,500
15,000
50,000
Taskmaster(s)
Le-sabre

Levels required
Total level: 973
 ----
 ----
 55
 ----
 71
 35
 70
 22
 96
 ----
 ----
 40
 70
 84
 80
 83
 ----
 50
 ----
 85
 53
 50
 29

20

----
[view] • [talk]
The Morytania Diary is a set of achievement diaries relating to Morytania and its surrounding area, released on 5 March 2015.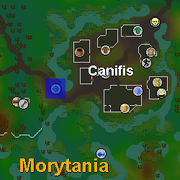 To begin the diaries, you must speak to Le-sabrè found west of Canifis. She is marked by a green star icon
on the minimap. Speak to her again after completing a set of tasks to claim the reward.
Completion of Priest in Peril is required for all tasks, as it is needed to enter Morytania.
To complete all of the tasks, players will need the stats shown to the right.
Please note you must do the easy tasks first in order to claim rewards from medium, hard or elite.
↑ Ironmen require 47 Farming to grow a Watermelon for the Scarecrow.
Task
Quest(s) Needed
Skill(s) Needed
Items Needed
1. Catch a swamp lizard.
None
29
At least 1 rope and Small fishing net
2. Complete a lap of the Canifis Rooftop Agility Course.
None
40
None
3. Obtain some Bark from a Hollow tree.
None
45
Any Axe (Fairy ring accessible:

a•l•q

)
4. Travel to Dragontooth Island.
None
None
25 Ecto-tokens (10 with a Ring of charos), ghostspeak amulet
5. Kill a Terror dog.
Haunted Mine, Tarn's Lair miniquest
40
Weapon and armour
6. Complete a game of Trouble Brewing.
Cabin Fever
40
Another player on the opposing team is required to start this game
7. Board the Swampy boat at the Hollows.
In Search of the Myreque
None
None
8. Make a batch of cannonballs at the Port Phasmatys furnace.
Started Ghosts Ahoy, Dwarf Cannon
35
Steel bar and Ammo mould
9. Kill a Fever spider on Braindeath Island.
Rum Deal
42
Slayer gloves
10. Use an ectophial to return to Port Phasmatys.
Ghosts Ahoy
None
Ectophial
11. Mix a Guthix balance potion while in Morytania.
Partial Completion of In Aid of the Myreque
22
Restore potion, garlic and silver dust
Task
Quest(s) Needed
Skill(s) Needed
Items Needed
1. Enter the Kharyrll portal in your POH through a Portal Chamber
Desert Treasure
66

50

3 Teak planks, 200 law runes, 100 blood runes, hammer, saw, and 2 limestone bricks (if you don't have a Portal Focus)
2. Climb the advanced spike chain within Slayer Tower.
None
71 (Can be boosted)
None (*If you you receive the message, "You rip your hands to pieces on the chain as you climb.", it does NOT count towards the diary. It may take several attempts before you get a successful attempt. If you are boosting, bring several agility potions or summer pies.)

NOTE: Remember a slayer helmet or nosepeg for Aberrent Spectres.

3. Harvest some Watermelon from the Allotment patch on Harmony Island.
Started The Great Brain Robbery
47
3 Watermelon seeds, farming supplies
4. Chop and burn some mahogany logs on Mos Le'Harmless.
Cabin Fever
50

50

Any Axe and Tinderbox. Witchwood icon recommended while traversing the Mos Le'Harmless Caves along with any light source.
5. Complete a temple trek with a hard companion.
In Aid of the Myreque
None
Decent weapon and armour. Route 1 can be used.
6. Kill a Cave horror.
Cabin Fever
58
Witchwood icon, Light source
7. Harvest some Bittercap Mushrooms from the patch in Canifis.
None
53
Mushroom spore, farming supplies (It is recommended to do this before the other tasks, as the Mushrooms can take up to 6 hours to grow.)
8. Pray at the Altar of Nature with Piety activated.
Nature Spirit, King's Ransom
70
70
None
9. Use the shortcut to get to the bridge over the Salve.
None
65
None (To the west, the temple leading to Morytania you have to go through for Priest in Peril. Just outside of the temple, slightly to the south there is a bent fence you need to pass in order to complete.)
10. Mine some Mithril ore in the Abandoned Mine.
Haunted Mine
55
Any pickaxe, Crystal-mine key (obtained during Haunted Mine) There is mithril on level 2 and 6
Ardougne Diary
Desert Diary
Falador Diary
Fremennik Diary
Kandarin Diary
Karamja Diary

| | |
| --- | --- |
| NPCs | Pirate Jackie the Fruit • Kaleb Paramaya • Jungle forester • TzHaar-Mej |
| Rewards | |

Lumbridge & Draynor Diary
Morytania Diary
Varrock Diary
Wilderness Diary
Western Provinces Diary