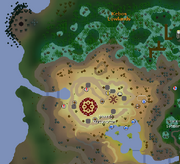 Mount Quidamortem is located at the south-west tip of Zeah and west of Shayzien and the Lizardman Settlement. Underneath Mount Quidamortem are the Chambers of Xeric, which serves as the staging ground for raids.
Getting there
Edit
It can be quickly accessed via the mine cart system with the Lovakengj House, but the player needs to bring a mine control scroll from Miriam to Stuliette in addition to having at least 65% Lovakengj favour to use the mine carts.
Otherwise, the player will need to traverse from the Shayziens' Wall and run westward until they reach the mountain. A form of poison protection should be taken as there are aggressive Lizardmen of all types patrolling the east side of the mountain. Just before the mountain base, there should be some big frogs and goblins wandering the area. At the base of the mountain will be some mountain troll settlements and a large group of rock crabs.
When you reach the staging grounds, find the Mountain Guide, and speak with him to unlock a two-way travel point between the mountain and the wall. This will save a lot of time when you want to return to the mountain.
Once players receive an ancient tablet as a reward from the Chambers of Xeric, they are able to use it on Xeric's talisman to instantly teleport to the mountain.
Personalities
Edit
The name of the mountain, Quidamortem, is a combination of the Latin words quidam and mortem, meaning "certain death".
NPCs

Captain Rimor • Gnosi • Historian Duffy • Mountain Guide • Natural Historian • Stuliette

Bosses

Ice demon • Vasa Nistirio • Tekton • Vespula (Lux grub) (Vespine soldier) (Abyssal portal)• Vanguard • Muttadile • Great olm

Items

Fish

 Pysk fish (0) (raw) •  Suphi fish (1) (raw) •  Leckish fish (2) (raw) •  Brawk fish (3) (raw) •  Mycil fish (4) (raw) •  Roqed fish (5) (raw) •  Kyren fish (6) (raw) •  Burnt fish

Bats

 Guanic bat (0) (raw) •  Prael bat (1) (raw) •  Giral bat (2) (raw) •  Phluxia bat (3) (raw) •  Kryket bat (4) (raw) •  Murng bat (5) (raw) •  Psykk bat (6) (raw) •  Burnt bat

Herblore

Potions

Weak

 Elder (-) •  Twisted (-) •  Kodai (-) •  Revitalisation (-) •  Prayer enhance (-) •  Xeric's aid (-) •  Overload (-)

Standard

 Elder •  Twisted •  Kodai •  Revitalisation •
 Prayer enhance •  Xeric's aid •  Overload

Strong

 Elder (+) •  Twisted (+) •  Kodai (+) •  Revitalisation (+) •  Prayer enhance (+) •  Xeric's aid (+) •  Overload (+)

Texts

 Creature keeper's journal •  Nistirio's manifesto •  Tekton's journal •  Transdimensional notes •  Vanguard judgement •  Houndmaster's diary •  Dark journal

Miscellaneous

 Kindling •  Empty gourd vial (water-filled) •  Keystone crystal •  Cavern grubs •  Medivaemia blossom •  Mallignum root plank

Rewards

| | |
| --- | --- |
| Melee | |
| Ranged |  Dragon hunter crossbow •  Dragon thrownaxe •  Twisted bow •  Twisted buckler |
| Magic | |
| Prayer scrolls | |
| Other |  Dinh's bulwark •  Dragon harpoon •  Dark relic •  Ancient tablet •  Olmlet |
Ad blocker interference detected!
Wikia is a free-to-use site that makes money from advertising. We have a modified experience for viewers using ad blockers

Wikia is not accessible if you've made further modifications. Remove the custom ad blocker rule(s) and the page will load as expected.