Ad blocker interference detected!
Wikia is a free-to-use site that makes money from advertising. We have a modified experience for viewers using ad blockers

Wikia is not accessible if you've made further modifications. Remove the custom ad blocker rule(s) and the page will load as expected.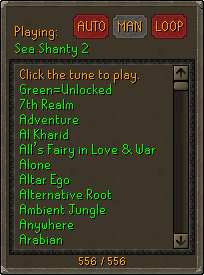 Music in RuneScape is mostly in-game background music (music tracks) designed to enhance a player's gaming experience and fit with the environment the avatar is in. Music in RuneScape draws inspiration from progressive rock, with elements of classical and world music. Players need to unlock most tracks during game-play by going to a particular place, completing a quest, or performing some action (such as reading a particular book).
There are a total of 501 Music tracks in Old School RuneScape; titles in bold indicate music exclusive to Old School RuneScape, and titles in italics indicate music that can only be unlocked during holiday events.
Players who unlock all non-holiday music tracks will be able to purchase the music cape from Olaf the Bard, and subsequently unlock the Air Guitar emote.
Track List
Edit
| Song Name | Unlock Details | Members | Duration |
| --- | --- | --- | --- |
| 7th Realm | Unlocked in the Brimhaven Dungeon | Yes | 04:07 |
| Song Name | Unlock Details | Members | Duration |
| --- | --- | --- | --- |
| Narode's Theme | Unlocked in the Grand Tree mine | Yes | 03:50 |
| Natural | Unlocked near the Nature Grotto | Yes | 04:42 |
| The Navigator | Unlocked during The Fremennik Trials | Yes | 05:38 |
| Nether Realm | Unlocked in the western section of the Stronghold Slayer Cave | Yes | 04:16 |
| Neverland | unlocked at the Tree Gnome Stronghold | Yes | 04:42 |
| Newbie Melody | Unlocked at Tutorial Island | No | 03:42 |
| Night of the Vampyre | Unlocked during Darkness of Hallowvale | Yes | 06:04 |
| Nightfall | Unlocked north of Rimmington. | No | 03:47 |
| No Way Out | Unlocked at the Hopelessness Room of Tolna's rift | Yes | 05:14 |
| The Noble Robent | Unlocked during Rat Catchers | Yes | 03:11 |
| Nomad | unlocked in the desert east of the Bedabin Camp | Yes | 04:00 |
| Norse Code | Unlocked in Jatizso | Yes | 03:58 |
| Nox Irae | Unlocked during in the 2015 Hallowe'en event | No | 03:11 |
| Null and Void | Unlocked at the Void Knight's Outpost | Yes | 03:36 |
| Song Name | Unlock Details | Members | Duration |
| --- | --- | --- | --- |
| Yesteryear | Unlocked in the Lumbridge Swamp | No | 03:56 |
Control panel

Top

 Combat Options •  Stats •  Quest List •  Achievement diaries •
 Minigame Group Finder •  Kourend Favour •  Inventory •
 Worn equipment (Equipment Stats) (Items Kept on Death) (Guide Prices) •
 Prayer screen •  Spellbook

Bottom

 Clan Chat •  Friends List •  Ignore List •  Logout (World switching) •
 Options •  Emotes •  Music

Minimap

Other

Chat Interface • Choose Option • Game controls • Main Menu • Trading interface