Ad blocker interference detected!
Wikia is a free-to-use site that makes money from advertising. We have a modified experience for viewers using ad blockers

Wikia is not accessible if you've made further modifications. Remove the custom ad blocker rule(s) and the page will load as expected.
This article is about the cape. For the emote, see
Air Guitar
.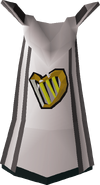 The Music cape is obtained by players who have unlocked all non-holiday music tracks. It is obtained along with the music hood, and can be purchased from Olaf the Bard in Rellekka for 99,000 coins. Along with the purchase of the cape and hood, players will also unlock the Air Guitar emote.
The cape can teleport players to Falo the Bard for an unlimited amount of times. This is especially convenient for players doing master clue scrolls.
The following tracks are not required to unlock the music cape:
Bunny's Sugar Rush
Diango's Little Helpers
Dies Irae
Easter Jig
Funny Bunnies
Grimly Fiendish
High Spirits
Jungle Bells
Jungle Island Xmas
Nox Irae
Sea Shanty Xmas
In order for players to trim the music cape, players are required to unlock all music tracks, including holiday event tracks. In addition, players are required to complete all the Achievement Diaries. After meeting the requirements, players can right-click on the cape and select the Trim option.
List of all music tracks and locations can be found here.
Requirements
Edit
65 Thieving to enter all of the different seasonal gardens in the Sorceress's Garden minigame.
A champion's scroll. (Unlock "Victory is Mine" inside the Champions Guild Arena)
A dark totem. (Unlock "Darkly Altared" inside Skotizo's lair beneath the Catacombs of Kourend)
70 Hitpoints to enter the Zamorak camp in the God Wars Dungeon. (Note: You CANNOT boost this requirement.)
70 Agility to enter the Saradomin camp, as well as a rope to access the area. (Note: You CANNOT boost this requirement.)
Many tracks are unlocked during quests such as Monkey Madness 2 also.
(The music tracks for Armadyl and Bandos can be unlocked without entering the room, and therefore the levels required for those are not needed.)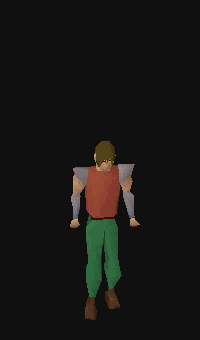 Bonuses
Hover over image for type

A player wearing the untrimmed music cape.

A player wearing the trimmed music cape.
 Attack bonus
+0
+0
+0
+0
+0
 Defence bonus
+9
+9
+9
+9
+9
Other bonuses
Slot

list

+0
0
0%
+0 (+4 trimmed)
Capes

 Agility (Hood) •  Attack (Hood) •  Hitpoints (Hood) •  Construction (Hood) •  Cooking (Hood) •  Crafting (Hood) •  Defence (Hood) •  Farming (Hood) •  Firemaking (Hood) •  Fishing (Hood) •  Fletching (Hood) •  Herblore (Hood) •  Hunter (Hood) •  Magic (Hood) •  Mining (Hood) •  Prayer (Hood) •  Ranging (Hood) •  Runecrafting (Hood) •  Slayer (Hood) •  Smithing (Hood) •  Strength (Hood) •  Thieving (Hood) •  Woodcutting (Hood) •  Quest point (Hood) •  Achievement diary (Hood) •  Music (Hood) •  Max (Hood)

Cape sellers

 Cap'n Izzy No-Beard •  Ajjat •  Surgeon General Tafani •  Estate agent •  Head chef •  Master Crafter •  Harlan •  Martin the Master Gardener •  Ignatius Vulcan •  Master fisher •  Hickton •  Kaqemeex •  Hunting expert •  Robe Store owner •  Dwarf •  Brother Jered •  Armour salesman •  Aubury •  Duradel •  Thurgo •  Sloane •  Martin Thwait •  Woodsman tutor •  Wise Old Man •  Twiggy O'Korn •  Olaf the Bard •  Mac

Emote

Skill Cape